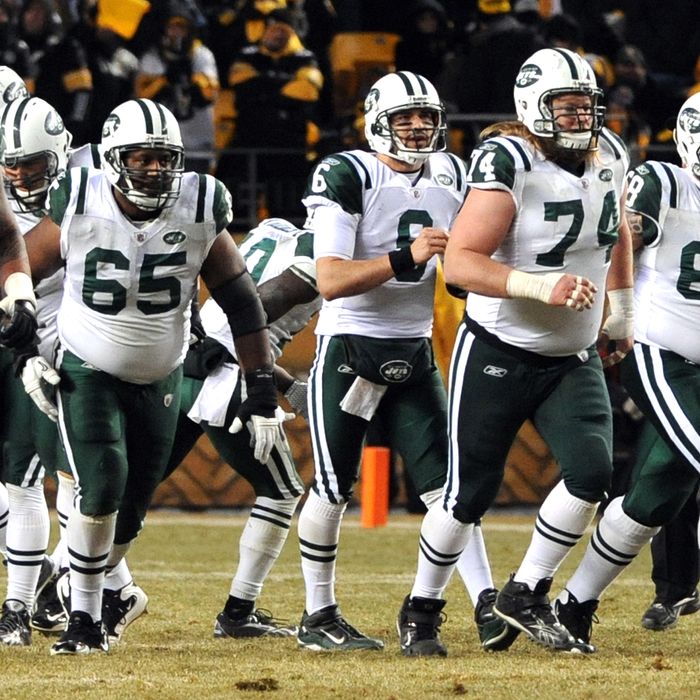 Yeah, we know that's last year's line.
The Jets' season begins Sunday at home against the Buffalo Bills. Until then, you should read our big Tebow-Sanchez package. And you should also stay here as we look at the Jets' biggest concerns heading into the season. First up: That offensive line.
As much fun as it might have been to place the blame for the Jets' inability to score a touchdown until the final preseason game on the quarterback situation, the reason that whole offensive business looked so bad was the offensive line. The Jets even made an offensive-lineman-for-offensive-lineman swap with the Rams. It's just ugly all around.
Is it going to get better? The Jets insist there really isn't a problem at all, that these were just exhibitions, that they will look just fine come Sunday. This has been Mark Sanchez's mantra the whole summer, and considering he was sacked 39 times last year, we suppose we have to take him by his word. But even Rex Ryan, not exactly Mr. Mum, is hardly doing backflips about the offense. "It's all about getting one more point than the opponent and that's it," Ryan said yesterday. "If that means we don't score a touchdown and we still win, we'll be happy and the Jets fans will be happy.'' That isn't exactly the most ringing endorsement we've ever seen.
So about the offensive line … well, back in May, new offensive line coach Dave DeGuglielmo said about Wayne Hunter: "This guy is the starting right tackle," DeGuglielmo said in May. "Until they tell me otherwise, until they ship him out of this building or until they shoot me dead in my office, that son-of-a-gun is going to be the starting right tackle. And he's going to play well." So, Hunter got traded last week. The leader of the offensive line is still Nick Mangold, who is still solid but is only one man. The right tackle spot, vacated by the Hunter trade, remains a serious problem: Austin Howard hasn't shown he can handle the job, and not just because his name sounds like a wide receiver's. And if Tim Tebow ends up starting, that becomes the blind side lineman position, which means he might get killed. (Even if the left tackle blind-spot position has become less vital in the NFL in recent years.)
Point is, the Jets have a huge gaping number of questions on the offensive line, just five days away from the first game, with an offense that has a worrisome lack of playmakers. Ryan may be right: The Jets may need to win some games when they don't score touchdowns.