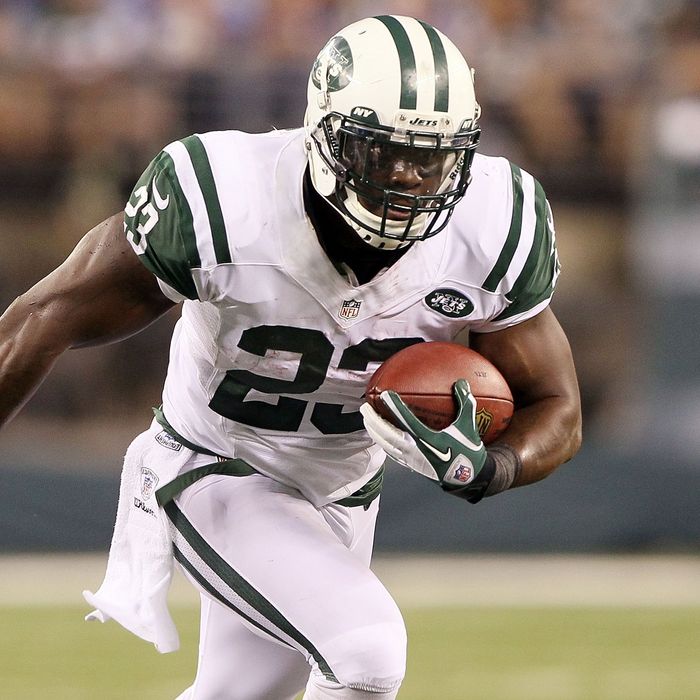 The Jets' season begins Sunday at home against the Buffalo Bills. Until then, you should read our big Tebow-Sanchez package. And you should also stay here as we look at the Jets' biggest concerns heading into the season. Today: the backfield.

Wasn't Shonn Greene supposed to be an All-Pro by now? A third-round pick out of Iowa in 2009 — the Jets traded up to get him — everything seemed set up for Greene. He was a power back in an offense built for one, a guy so underrated that he was overrated by the time his rookie season started. (Ah, New York.) Injuries inhibited him most of his rookie year, but he was terrific in the playoffs, and he looked ready to break through in 2010. It didn't happen: He only started two games that season, losing the job to LaDainian Tomlinson, and even though he was the starter last year and barely poked over 1,000 yards, the great Shonn Greene emergence everyone has been waiting for has yet to happen.
If it's ever going to happen, it's gonna be this year. The whole Jets offense is built around the power run game — they mean it this time—- and Greene is at the center of that. (They're not lining Tebow up back there. Yet.) It's a contract year for Greene, which means the Jets will know for certain what they would be getting in the future and how much they'd be paying for it. He's looked terrible in the preseason, but so has everybody else.
The Jets don't have much in the way of backups. Tomlinson is gone — to the NFL Network, actually, which means you won't be able to watch him — and Bilal Powell has taken over the third-down back/backup role. Joe McKnight is still hanging around, too, amazingly. But this is Shonn Greene's team. The whole Jets plan this year is to dominate on the ground and win games with defense. That requires Greene to be the back everyone had been planning on him being. The Football Outsiders Almanac this year said about Greene: "Look for Greene to truly come into his own when the Jets finally get rid of those fancy-pants forward passes and dedicate themselves to the 1887 Rutgers playbook." The Jets might not be far from that point.