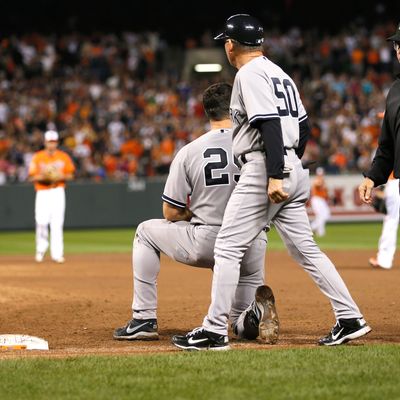 Mark Teixeira, on Saturday night.
Follow along here: On Friday afternoon, before the second game of the Yankees-Orioles series at Camden Yards, Mark Teixeira ran the bases and told his manager and trainer that he was healthy enough to play, estimating to the press that his leg was "87.3 percent" healthy. Joe Girardi and Steve Donohue, using some sort of lying-athlete math, determined that, in Teixeira's words, "When you say you're OK, you're probably saying it too early." And so they decided that he would sit one more day and return to the lineup on Saturday. He did indeed return on Saturday, and during the game he seemed hesitant to run at full speed. In the seventh inning of that game, Joe Girardi talked to him, and Teixiera told him his calf was okay. Girardi said he left him in because he thought his place in the lineup might come up in the ninth inning. It did, and it's clear in hindsight that letting Teixeira play was the wrong decision.
With one out in the ninth and the Yankees down by a run, Teixeira hit a ground ball to second. As the would-be tying run dashed for home, Teixeira ran hard to first. He beat the throw according to everyone but Jerry Meals, but his hustle came at a cost: He re-aggravated his calf injury, and after an MRI yesterday, the Yankees have announced that he'll miss ten to fourteen days. (Perhaps the most idiotic quote in all of this came from Girardi after the game Saturday: "I played him Saturday, and I do believe he was ready go do, but I believe he just got in a crazy play." Apparently, having to run hard to first qualifies as "a crazy play.")
These are important games Teixeira will miss: The Yankees have a one-game lead in the American League East, and over the next two weeks have series against Boston, Tampa Bay, Toronto, Oakland, and Minnesota. (Those Tampa Bay and Oakland series are especially critical.) Joe Girardi openly wondered the other day whether Teixeira would be able to return this season, and so if this estimate holds true, he'll at least be back for the season's final week or so. Not that he'll necessarily be at 100 percent when he returns. Via the Post:
"When I come back in a week or whatever, I am going to make sure it's better than 80 percent — but it's not going to be 100 percent,'' Teixeira said before the MRI was taken.
Obviously, these estimates are hardly scientific. But if playing at 80 percent (or at "87.3 percent," as he told the media) was a mistake, and playing at 100 percent isn't realistic, we wonder where the bar is set this time. Maybe 92.1 percent? Or 93.8? Ugh.