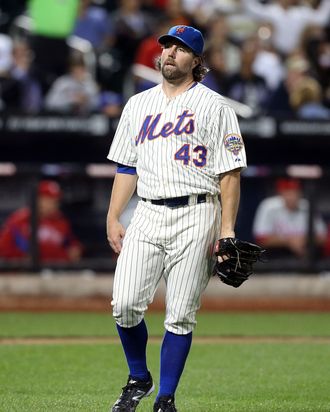 When we last looked at R.A. Dickey's chances of winning the Cy Young Award, we noted that while a pitcher's win totals aren't important, a certain type of undecided voter might be swayed by the phrase "twenty-game winner R.A. Dickey." And so last night, Dickey pitched pretty well as the Mets kicked off their final homestand of this 2012 season that can't end soon enough: seven innings, five hits, two earned runs, eight strikeouts, and two walks. He lowered his ERA just a hair to 2.67, but the Mets, as has been their habit at Citi Field lately, didn't provide their starter with a lot of run support. They scored just one run off of Cliff Lee in his eight innings of work, and Dickey took the loss to drop his record to 18-6.
We still like Dickey's chances, though: He leads the National League in ERA and innings pitched, and is one strikeout behind the injured Clayton Kershaw, who leads the N.L. with 205. (He's also just behind the leader Kershaw on the WHIP leaderboard, 1.04 to 1.02.) If we may get into the mind of the type of voter who thinks WAR and FIP are for nerds, Dickey's one win behind Gio Gonzalez for the N.L. lead, and he's compiled those wins while pitching for a team that's been dreadful in the second half of the season. (Since we mentioned them: Baseball Reference's formula has Dickey tied for second in pitching WAR, while Fangraphs has him eighth in both WAR and FIP.)
Dickey should be able to make three more starts in 2012, and says he doesn't want to try and pitch on short rest in the season's final weeks to try and separate himself from Kershaw, Gonzalez, Johnny Cueto, and any other Cy Young candidates. Via the Daily News:
"I'm not going to do anything that would subtract from our ability to win a game. That's the way I believe it should be done. That means I don't bounce back on two days' rest and try to get extra starts. It doesn't mean I (pitch) when we're down 2-1 in the seventh inning … To manipulate it like that doesn't feel right to me."
On a related note, Thursday is officially Knuckleball Day in New York City. If you can't wait to celebrate, though, head up to Boston, where Knuckleball Day is today.