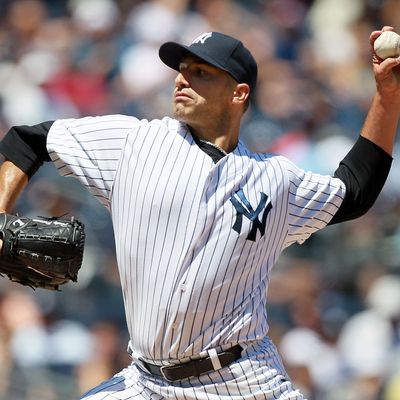 So Andy Pettitte returns to the Yankees rotation tonight, with his team clinging to a half-game lead in the American League East. Pettitte himself, though, admits he probably wouldn't be making a start for the Yankees yet if they had a comfortable lead in the division. For what it's worth, Pettitte has said his command was good during his simulated games, but he doesn't know if his stamina will be an issue when he takes the mound in a real game tonight. (He's on a pitch count of about 75 tonight.) The Yankees have had injuries to their rotation all season, and tonight, it becomes as whole as it's going to get in 2012. The question, of course, is what exactly they'll be able to get out of Pettitte tonight and for the remainder of the year.
Pettitte had been pitching well since unretiring in the off-season: He only made nine starts before getting hit with a line drive and fracturing his left fibula in June, but he posted an ERA of 3.22 in those nine games — a lower ERA than Hiroki Kuroda, CC Sabathia, or any of the Yankees' other starters this season. Of course, Pettitte is 40 years old and wasn't able to make any minor-league rehab starts prior to returning to the big-league club. All the big-game experience in the world can't change those facts. This quote, from a session with reporters last week, caught our attention today. Pettitte was asked to talk about his year, and he was discussing his concerns about attempting a comeback. Via the LoHud Yankees Blog:
Like I said before, I thought my groin might give me trouble, I thought my back my give me trouble, I thought my elbow may give me trouble if I came back and started logging a whole lot of innings or whatever. I would never have expected to get a line drive off your leg and break your leg. That's just part of it.
When he puts it that way, it's a wonder he'd made eight injury-free starts before getting hit with that line drive.
Of course, then there's Nick Swisher's way of looking at the situation. From the Post:
"Let's be honest, in baseball terms, Andy is not a normal human,'' Nick Swisher told The Post. "Andy brings that hero element to us. He's one of those main guys who has made the Yankees who they are. In a sense, it's almost like a super hero popping out.''
Always, the optimist, that Swisher. In reality, of course, Pettitte is indeed human, albeit a human who'd been having a nice season before he got hurt. Now Swisher and everyone else has to hope he picks up more or less where he left off.