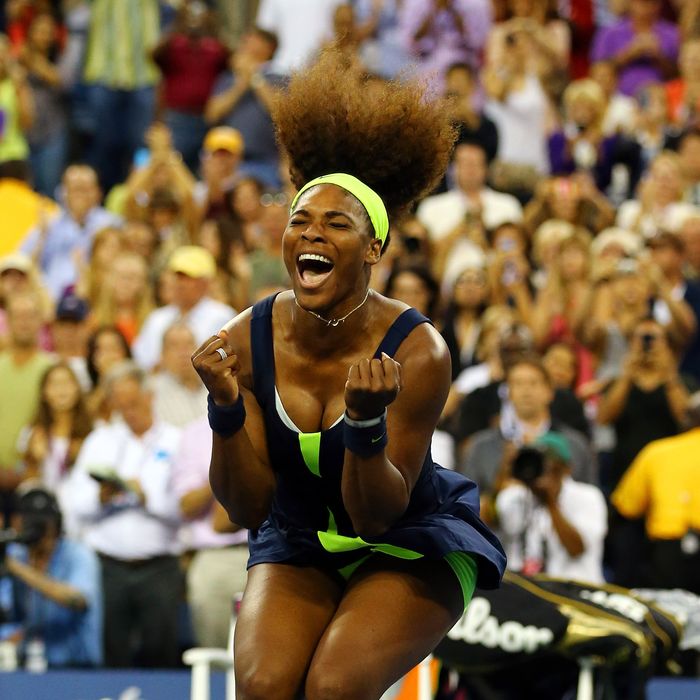 Serena Williams claimed her fourth U.S. Open women's singles title this evening with a three-set win over Victoria Azarenka, exorcising the cursed relationship she's had with the tournament for the past three years. The title is the crowning glory to a smashing summer for Williams, in which she won a Wimbledon trophy and a gold medal in singles and doubles at the Olympics, lending further credence to her legend. She's the first person to win the U.S. Open in three different decades (1999, 2002, 2008, and 2012), and she's now at Grand Slam number fifteen, just three short of Chris Evert and Martina Navritilova.

At one point however, we were within two points of a completely different outcome.
Azarenka had broken serve in the third set, and Serena Williams was serving to stay in the match at 3-5. But Williams held with some clutch serves, challenging her opponent to win the match on her own racket.

Azarenka had already shown impressive mental fortitude in her first U.S. Open final: Williams thoroughly worked her over in the first set, allowing Azarenka just two games, and yet the Belarusian came back in the second set, stronger and ready to capitalize on Williams' suddenly sloppy footwork, serving, and groundstrokes. As Williams racked up more errors, Azarenka remained solid in rallies, winning the second set 6-2.

But as Azarenka stood at the baseline to serve for her first U.S. Open title and her second Slam, she faltered. Noticeably tight, Azarenka quickly dug herself a hole at 0–40, and Williams capitalized on her second break point. As many players have painfully learned, giving an inch to Serena Williams is like cracking the door open for a locomotive. Williams held easily and then broke Azarenka again, claiming the final Slam of the year with a 6–2, 2–6, 7–5 victory – the first three-set women's singles final in Flushing since 1995.

Williams has a habit of casually mentioning that she can't remember how many Slam titles she's won, but you can be sure that she won't soon forget number fifteen. You may recall at the 2009 U.S. Open when she infamously erupted after a foot fault penalty that not only gave her opponent Kim Clijsters match point, but eventually cost her the entire match when she was docked another penalty for threatening the lines person. She then skipped the 2010 U.S. Open with a curious foot injury, and during last year's loss against Sam Stosur, she caused controversy again when she argued a hindrance penalty she received for screaming "Come on!" before her opponent could attempt to return a scorching forehand. Her win this evening is surely a cleansing victory, distancing herself from these blights on her increasingly peerless record.

After the match, Azarenka walked to her chair and tossed a towel over her head, hiding her tears from the cameras. One can understand her disappointment, but her performance was encouraging. Williams is obviously a skillful, overpowering competitor, but one of her greatest weapons against the entire women's tour tends to be her ability to get into everyone's head. Look at Maria Sharapova, who narrowly escaped a double bagel in her 6–0, 6–1 loss to Williams in the gold medal match at the Olympics, or the six players in Flushing who collectively could only pry a mere nineteen games from the champion.

And now, we wait for the men's final between the defending champion Novak Djokovic and third seed Andy Murray, which will start tomorrow at 4 p.m. Djokovic is playing for his fifth Grand Slam title, while Murray is still seeking his first — as well as the first for Great Britain since Fred Perry in 1936. If both men arrive playing their A-game, it should be a real cracker of a match (as the fantastic Darren Cahill might put it), and in that case, everyone wins.