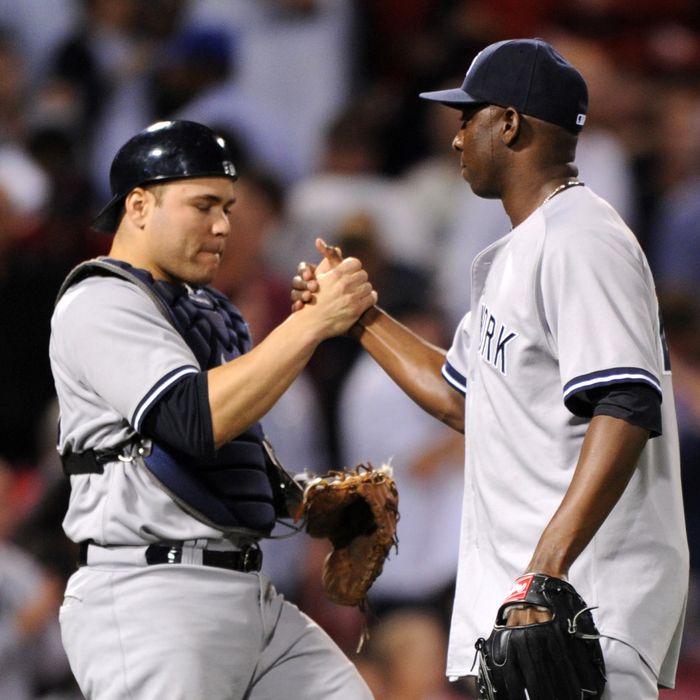 Russell Martin and Rafael Soriano.
The Yankees split a four-game series at Camden Yards over the weekend and headed to Boston in sole possession of first place. But after losing their series opener to the Red Sox, the Yankees once again found themselves tied with the Orioles atop the American League East standings. The Yankees won on Wednesday and then won again last night — but so did Baltimore, giving both teams identical 81-62 records. Next up for the Yankees: The Tampa Bay team that just got swept by the Orioles. But what happened this week that didn't involve Taiwanese animation?
At the U.S. Open, Serena Williams took the women's title, and Andy Murray took the men's title.
The Jets beat Buffalo to kick off their season.
The Mets might have reached a new low point after getting swept by Washington to finish their homestand 0-6.
The USMNT averted disaster by beating Jamaica.
Patrick Ewing turned down the Knicks' D-League coaching job (which isn't that bad a gig, really), while Hakeem Olajuwon got set to work with Carmelo Anthony, Tyson Chandler, and others.
The Sports Section's Official Favorite Athlete, John Skelton, had a rough day on Sunday.
We looked at Derek Jeter's chances of winning the batting title and R.A. Dickey's chances of winning the Cy Young Award.
Mike Francesa said he didn't actually fall asleep on the air this week. The Mad Dog thinks otherwise.
David Cone broke out his John Sterling impression.
And we looked at what an NHL lockout might mean for the Rangers.
That's it for us. Have a great weekend.