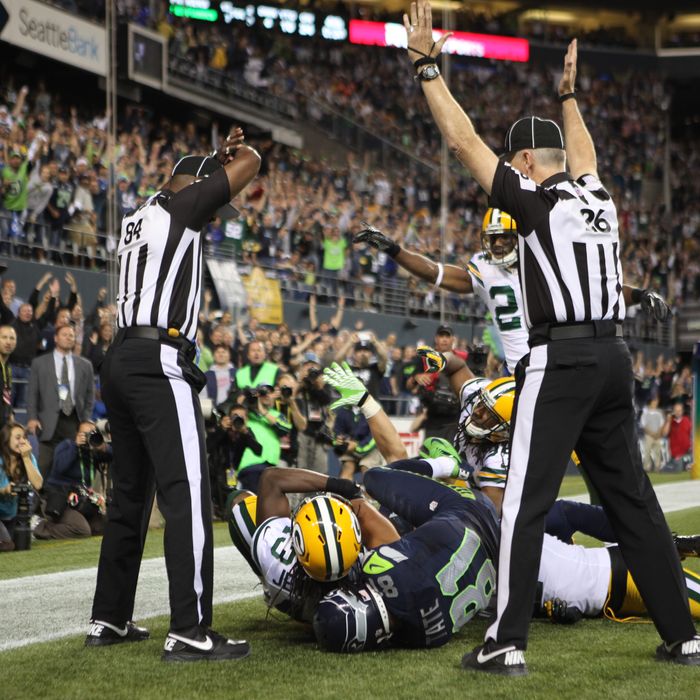 We're running out of opportunities to use this photo.
The scab NFL officials reached their inevitable nadir this week at the end of Monday night's game between Packers and Seahawks. Public outrage ensued, and after three regular-season weeks of replacement refs, the NFL and its officials reached a deal, ending the lockout. (Not that any of this will be soon forgotten.) But what happened this week that didn't involve stunned announcers?
With the regular season winding down, the Yankees won two of three in Minnesota, but lost their series opener in Toronto.
The Jets managed to beat Miami, but they lost Darrelle Revis to a torn ACL.
On the Mets final homestand of the year, David Wright became the franchise's all-time hits leader, while R.A. Dickey won his twentieth game.
The NHL lockout continued, and next week's Islanders-Devils preseason game at Barclays Center was cancelled.
We learned that something really nice will happen in next Tuesday's Mets-Marlins game.
A report said that the Mets' and Yankees' TV booths were among the least biased in the league.
And the Knicks appeared on the verge of signing Rasheed Wallace.
That's it for us. Have a great weekend.