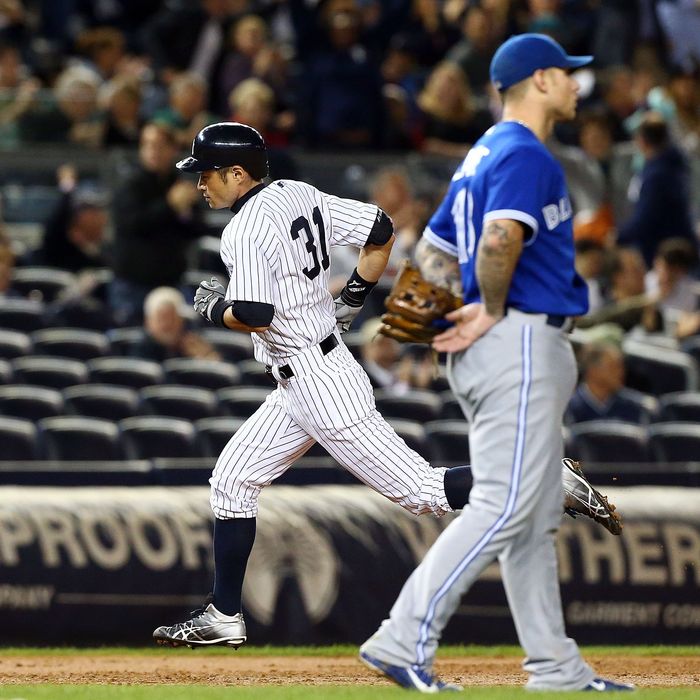 Ichiro Suzuki, last night.
Here's the good news: The Yankees haven't lost a game since last Friday. They beat the Rays Saturday and Sunday, won a doubleheader against Toronto on Wednesday thanks to a big day from Ichiro, then finished off their sweep of the Jays last night. The bad news? The Orioles have been winning games, as well: They've won four in a row and have lost just twice in their last nine games. And so heading into this weekend, the Yankees (who host Oakland) lead Baltimore (who visit Boston) by one game in the East. But what happened this week that didn't involve the return of Andy Pettitte?
Eli Manning led another fourth-quarter comeback in a victory over the Buccaneers on Sunday. Last night's win over Carolina, meanwhile, didn't require quite so much drama.
The Jets crashed back to earth against the Steelers.
Matt Harvey's season ended in a very Mets way. (Terry Collins's club, by the way, has lost 11 of 12 and is just 4-13 in September.)
Rex Ryan finally got annoyed by a Tim Tebow question.
We looked again at R.A. Dickey's Cy Young chances.
Barclays Center had its ribbon-cutting. Soon, it will host actual sporting events.
We learned that Time Warner subscribers will finally be able to watch the NFL Network.
Derek Jeter said he could see himself playing for another team after his current contract ends.
And we looked back on the life of Keith Hernandez's mustache.
That's it for us. Have a great weekend.