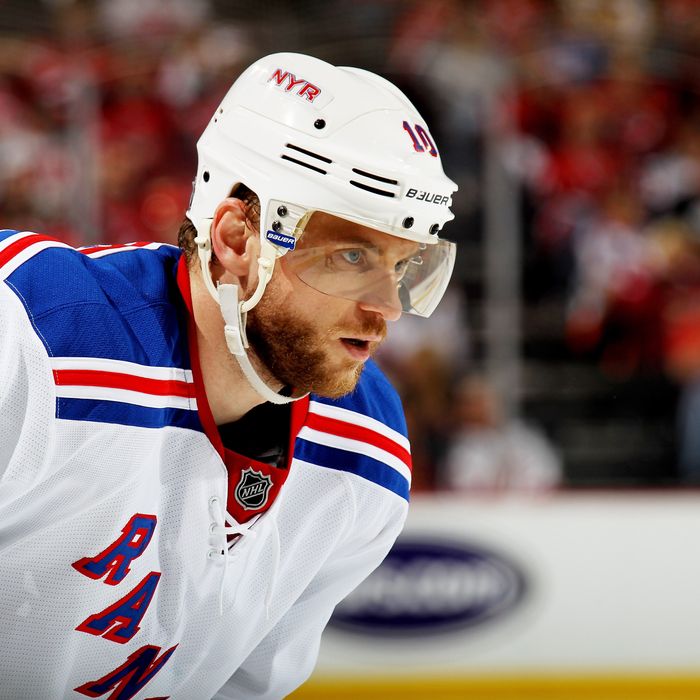 The NHL is fast approaching yet another lockout — the current collective bargaining agreement expires Saturday night at 11:59 p.m. — and the New York Rangers Blog calls our attention today to an ESPN.com piece by Craig Custance that looks at which teams would be especially hurt by a potential work stoppage and which might actually benefit. He lists the Rangers under the heading of "potentially hurt." But how exactly would the Rangers be affected, for better or for worse?
First, here's Custance's take, which is based on the absolute worst-case scenario for these labor negotiations:
There's a real opportunity for the Rangers to seize the attention of New York sports fans this winter. They have star power with the addition of Rick Nash to go with Gaborik, Henrik Lundqvist and Brad Richards. They're smack in the middle of their Stanley Cup window and a lost season would be a huge blow to this group. Assuming the prime age for forwards is about 24 or 25 years old, which recent production suggests, the Rangers' stars up front are moving away from that number. A lost season would put even more distance between Nash (28) and Richards (32) and their prime years for production.
The topic of whether the Rangers might be able to carve out a better place for themselves in the city's sports consciousness is worth discussing, but it doesn't really impact the team's performance on the ice. And while Custance is right that a lost season would be a disaster for a Rangers team whose window to win a Stanley Cup is just opening but won't be open forever, remember that we won't necessarily see a repeat of the last lockout, which canceled the entire 2004-05 campaign. (Count us in the camp that believes that there's no way a potential lockout would last long enough to cancel the January 1 Winter Classic and understands that there's incentive to get it done sooner: NBC's first national broadcast is on Black Friday, and filming of HBO's terrific 24/7 would need to take place in the weeks leading up to the outdoor game at Michigan Stadium.)
So, let's assume for the purpose of this exercise that there will be a lockout that cancels games but doesn't cancel the entire season. How would the Rangers be impacted?
Well, it would benefit them in at least one way: Marian Gaborik, their leading goal-scorer last season and a key part of their offense, is out until at least November as he recovers from right-shoulder surgery. As Custance points out elsewhere, the more games canceled in the season's opening months, the fewer games his teammates have to play without him. Of course, the lack of a full season and a full training camp would hurt them in other ways: The chemistry on this team's lines — and on its top lines, in particular — is a perpetual concern. Putting newcomer Rick Nash on a line with Brad Richards (along with Ryan Callahan or Gaborik, when he's healthy) looks great on paper, but it would give them fewer games to skate together during the regular season — and could mean less practice time if a revised schedule includes fewer days between games. These are issues that all NHL teams would have to deal with, but doing so while trying to work in a new offensive weapon like Nash isn't ideal.
Keep in mind, too, that the Rangers are scheduled to once again open the season with a long road trip because of the summer renovations of Madison Square Garden. A revised, shortened schedule that began in, say, November, could mean a less funky slate of games for a team that, as of now, is set to play all eight of its October contests on the road before playing its home opener on November 1.
Here's something else that makes us nervous, though, and again, this is all purely hypothetical: Let's say there's a short lockout that only cancels a week or two of games. Simply chopping those games off the schedule wouldn't really be fair: Teams are supposed to play identical conference schedules, even if the out-of-conference schedules differ. And so, rather than totally revise the schedule, might the league consider simply tacking the canceled games onto the end of the season, and delaying the start of the playoffs by a week or two? There's some precedent for this sort of thing: The ten-day 1992 strike caused the cancellation of a total of 30 games, but those games were rescheduled and not lost altogether. In this scenario, the Rangers would then finish their season with a string of road games — and while in the end, they'll have played 41 games both at home and on the road like every other team, those aren't great circumstances for a team that's likely to have something to play for in the season's final weeks.
For now, though, all we can do is wait for this to be settled and think about whether it's worth driving to Hartford to watch Chris Kreider.