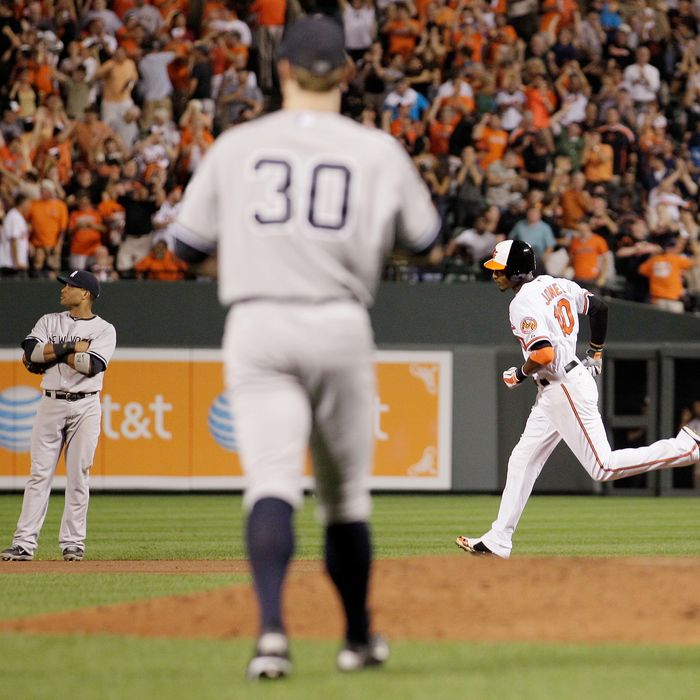 Adam Jones rounds the bases after his eighth inning home run.
There hasn't been a lot to get excited about in Yankeeland in recent weeks, which made their five-run eighth inning last night to tie the series opener against the Orioles all the more thrilling. They've looked lost for much of the past week, in one of the most important stretches of the season, but last night, after batting around in that eighth inning, they looked poised to turn a near-certain defeat into a victory. These were the big, bad Yankees — participants in sixteen of the last seventeen postseasons — doing what they do, ready to deliver a crushing blow to an Orioles team they've long pushed around. Except not only did the Yankees fail to deliver that final blow last night, Baltimore threw one hell of a counterpunch.
And so, in the bottom of the eighth inning, it took David Robertson all of four pitches to give the lead back to the O's on an Adam Jones home run. It took him just nine more pitches to give up two more runs, thanks a Mark Reynolds two-run homer. (The superstitious should take note that after switching things up on Wednesday, Robertson was once again sporting high socks last night.) And Boone Logan, who replaced Robertson, threw exactly one pitch last night: a Chris Davis home run to right that gave the Orioles the 10-6 lead by which they would win. On the night, Baltimore hit six home runs, and with the victory, once again pulled even with the Yankees in the American League East standings. (Tampa Bay had the night off, and is now two games out.)
Phil Hughes pitches against Wei-Yin Chen in the second game of the four-game series tonight. By this time tomorrow, the Yankees could be in second place. We'll once again suggest you familiarize yourself with the Wild Card standings.