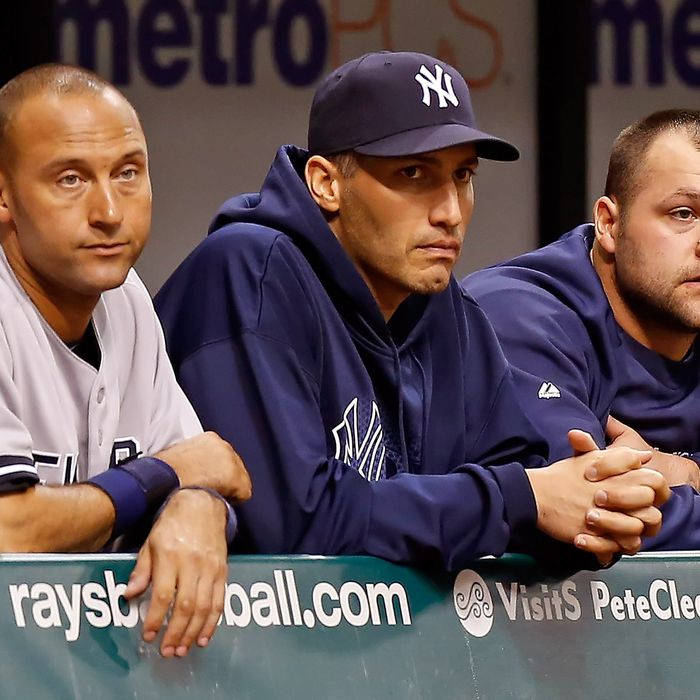 You guys, this is getting really bad. Forget, for just a moment, the American League East standings. Instead, just look at what the Yankees have done on the field in recent days: Last night's loss to Tampa Bay was their fifth in six games. It was the fifth straight game in which they had six or fewer hits, their worst such stretch since 1990. Their lineup last night once again looked like something you'd see in a spring training game: Raul Ibanez in left, Chris Dickerson in right, Jayson Nix at second, and Chris Stewart behind the plate. And the starting pitcher was Freddy Garcia, who himself is only in the rotation because of injuries.
Last game was a pretty representative one: The Yankees got on the board first, couldn't string together the hits to add to their lead in what looked like a promising third inning, lost that lead a couple innings later, and barely threatened again offensively. (Joe Girardi's ejection in the fourth inning following the Dickerson strikeout didn't appear to do much to inspire his team, which was held scoreless after Robinson Cano's first inning homer.) Like we wrote yesterday, the Yankees have reached the point where you expect them to lose in one way or another.
Now, about those American League East standings: What had been a Yankees double-digit lead has now completely evaporated. The Orioles beat up on Toronto last night, and combined with the Yankees loss, moved into a tie for first place in the division. The Rays, meanwhile, now sit just a game and a half out of first in the East. (In the Wild Card race, the A's have the same record as the Yankees and Orioles — 76-59 — and sit in one of the two Wild Card spots. The Rays, obviously, are a game and a half out in the Wild Card standings, as well.)
Maybe it's true that the Yankees — even the version of the Yankees that's taking the field these days — is too talented to play this badly for much longer. (Jonah Keri tried to talk Yankee fans off the ledge in his power rankings column for Grantland yesterday, saying that there's "[s]till no panic button needed." Of course, we think we might have been too busy slamming our head against the panic button to really soak in what he was saying.) But the American League East didn't become a three-way race only because of the play of Baltimore and Tampa Bay. The Yankees — because or injuries or age or underachievement (or a combination of the three) — have done plenty to get into this position. They're playing lousy baseball right now, and they're getting lousier at exactly the wrong time. There's still time to turn this around. Here's hoping this is rock bottom.