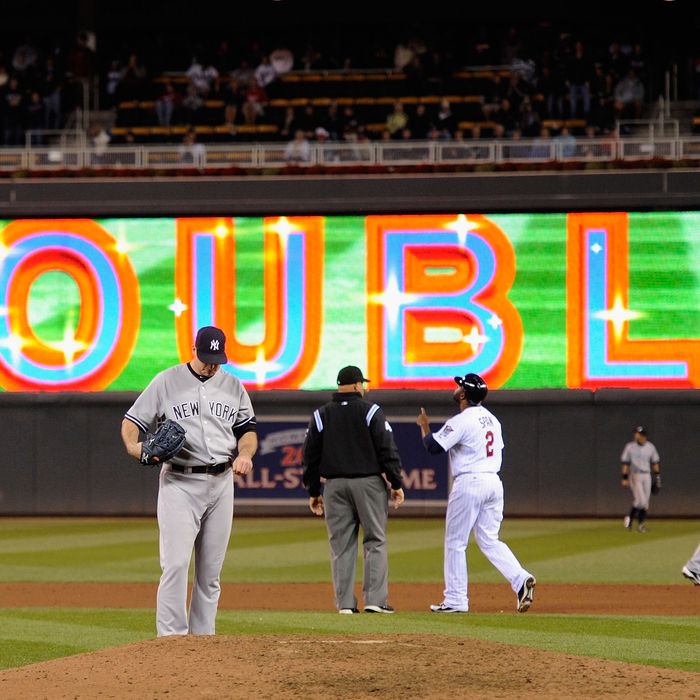 In case Boone Logan wasn't sure, the Target Field scoreboard informs him that he just allowed a double.
Is that headline a little too glass-half-empty? After all, the Yankees didn't see their 1.5-game lead in the A.L. East shrink at all last night, either: Baltimore had already lost to Toronto before the Twins finished off the Yankees at Target Field. If nothing else, it's another game off the schedule, and so with just eight games left now, there are worse things than the status quo. But the Yankees and Orioles spent so much of September within a game of each other that the 1.5-game lead the Yankees enjoyed heading into play last night seemed downright comfortable — which is, of course, insane. Hoping they could extend that lead to a whole 2.5 games — especially after Baltimore's game ended last night — is hardly greedy.
The Yankees had their chance last night: They led 3–1 in the seventh when Minnesota loaded the bases off Phil Hughes. With two outs and four straight lefties due up, Joe Girardi called on Boone Logan, who threw a wild pitch (plating Minnesota's second run), allowed a double to Denard Span (giving the Twins a 4–3 lead), walked a batter, then surrendered a Joe Mauer single that gave the Twins a two-run cushion. The Yankees would get one of those runs back in the ninth on an Andruw Jones pinch-hit home run, but Jayson Nix would strike out to end the game. The Yankees have been winning a lot of games over the past week or so, so these things will happen — but it's an opportunity wasted nonetheless.
And so with eight games left, here's what the races relevant to the Yankees look like:
• They're two games behind Texas for the best record in the American League. And remember, this year, the team with the best record gets not only home-field throughout the A.L. playoffs, but gets to play the Wild Card team that's just survived a one-game playoff. (It's worth noting, though, that both Wild Card teams right now have a better record than the two teams battling for the Central Division title.)
• The Yankees still have that 1.5 game lead in the East, with Tampa Bay five games out of first. For what it's worth, on its playoff odds page, Baseball Prospectus has the Yankees winning the division 87.6 percent of the time, given their current position.
• And in the Wild Card standings, Baltimore and Oakland occupy to the postseason slots, with the O's a half-game ahead of the A's. The Angels are two games out of a Wild Card spot, and the Rays are three games out. (To put it in terms of the Yankees, New York is four games ahead of the top team currently outside of the playoff picture. Baseball Prospectus has the Yankees' odds of reaching the postseason at 99.3 percent.)