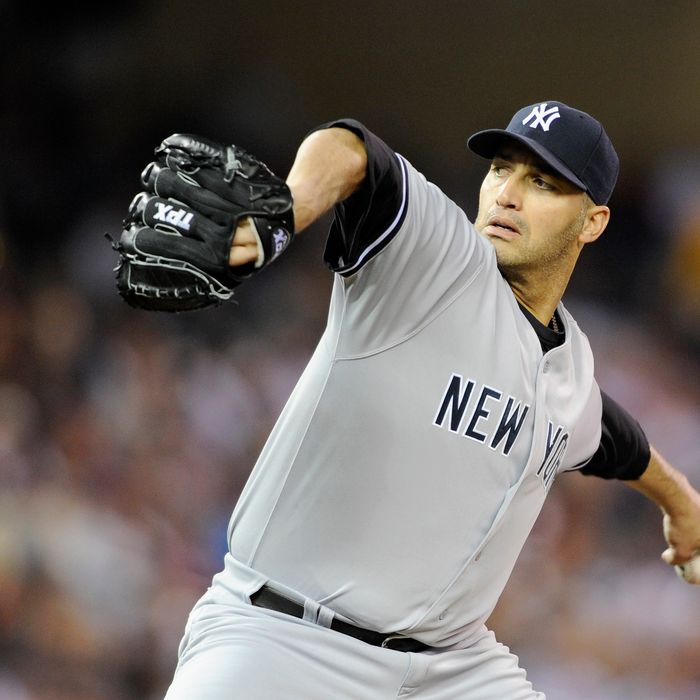 Between the end of their four-game series in Baltimore earlier this month and the start of their three-game set in Minnesota last night, the Yankees won nine games and lost three. Not bad! But all but one of those twelves games was decided by two or fewer runs — including all three games of the bonkers series against Oakland at Yankee Stadium this past weekend. And so in the midst of a tight pennant race, (mostly) stress-free nights like last night's — in which the Yankees built up a comfortable and much-needed cushion — are especially welcome.
The Yanks jumped out to a 3–0 lead in the first inning last night, then extended it to 6–0 with a homer in the fourth and two more in the seventh. Things got hairy enough that Rafael Soriano was warming up while David Robinson tried to close out the game, but the Twins could only get as close as 6–3. Most important, Andy Pettitte — in his second game since returning from the disabled list — threw six solid innings, and just like in his first game back, didn't allow an earned run. This time, he gave up seven hits and a walk to go along with three strikeouts, but he pitched out of jams when necessary. Perhaps it's still too early to look ahead to the playoffs — or at least, to a round of the playoffs that requires a team to use an actual pitching rotation — but the Yankees would love to have a healthy, effective Pettitte be able to start in the postseason. The chances of that happening look a lot better today than they did a week ago.
Thanks to a Baltimore split of a doubleheader yesterday, the Yankees extended their lead in the American League East to one and a half games, which doesn't seem like a lot, but is actually the most these teams have been separated since September 2. According to STATS research, the 21-day stretch during which these teams were separated by no more than one game was the second longest September streak of all time, and the longest in 115 years. It's all the more remarkable when you consider the Orioles never gained sole possession of first during that period.
So! A whole game and a half lead! No matter what happens tonight, the Yankees will definitely be in first place tomorrow morning. Beyond that, though, isn't so clear.