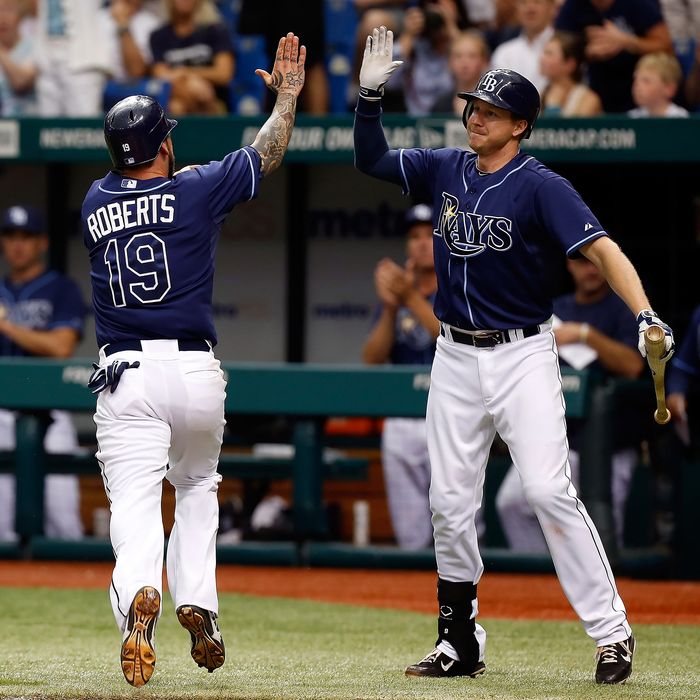 The Rays celebrate the go-ahead run yesterday.
How bad was the Yankees' holiday weekend? If not for a seventh-inning rally on Saturday (in which they scored the go-ahead run on a J.J. Hardy error), the Yanks would have gone 0-for the long weekend, while the surging Orioles would have gone undefeated. Meanwhile, after losing on Friday night, the Rays won on each day of the three-day weekend, creating even more of a logjam atop the American League East — exactly the kind of logjam that it once looked like the Yankees wouldn't have to worry about.
The Yankees once had a double-digit lead over the rest of the American League East, but that cushion is almost entirely gone now. They now lead Baltimore by just one game, with the Rays in third place, two and a half back. (In the Wild Card race — one that Yankees fans might want to start familiarizing themselves with — Baltimore and Oakland are tied for the top-two spots, with Tampa Bay a game and a half out, Detroit three games out, and the Angels three and a half games out.)
The Orioles have been hot for weeks now, the Rays (who'd been so good in mid-August before hitting a rough patch) have won three in a row, but the Yankees are trending in the wrong direction. They'd been cruising until mid-season, played mediocre baseball for much of July and August, and now look totally lost. Injuries have hurt them, to be sure, but there's more to it than that. (To pick on but one underachieving member of the team, Curtis Granderson hit just .196 in August with an OPS of .693 before getting hurt on the first day of September.) Yesterday, they took a 3-2 lead in the fourth, gave up the tying run an inning later, then allowed the go-ahead run in the eighth with David Robertson on the mound. One watches the Yankees these days and expects them to find a way to lose.
Let's not discount the team's health (or lack thereof), though. Like a game of injury Whack-A-Mole, new issues continue to emerge just as others finally go away. Yesterday, Alex Rodriguez returned to the lineup after missing six weeks of action, and Granderson was able to pinch hit after sitting out Sunday's game. But Robinson Cano felt his hip grab during yesterday's game and is questionable for tonight. The regular season ends less than a month from today, and a lot can change between now and October 3. That's good for the Yankees, because with 28 games to go, a lot has to change. So far, in the first four games of this crucial stretch in which the Yankees play ten games in ten days against the two teams chasing them in the East, they're just 1-3.