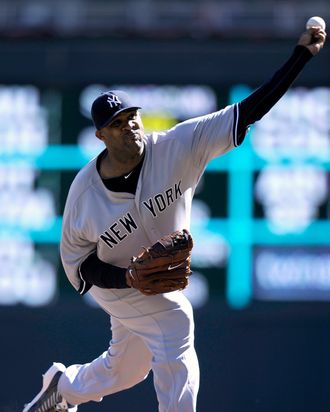 Last week, Baseball Prospectus looked at how having an ace doesn't necessarily guarantee postseason success (nor does lacking one mean a team is doomed come October). But when a team already employs an ace, it's surely helpful when he actually pitches like one. Consider the mixed bag that's been CC Sabathia's season. Entering his start today in Minnesota, Sabathia was on pace to post the best K/9 and K/BB ratios of his career. But his ERA of 3.47 would be his highest since 2005, and he's twice landed on the disabled list.
Meanwhile, his numbers since returning from his most recent stint on the DL have been all over the place:
August 24, at Cleveland: 7 1/3 IP, 1 ER, 4 H, 9 K, 1 BB (W)
(So far, so good … )
August 29, versus Toronto: 7 IP, 2 ER, 9 H, 8 K, 0 BB (L)
September 3, at Tampa Bay: 7 IP, 3 ER, 8 H, 4 K, 2 BB (ND)
(Getting worse … )
September 8, at Baltimore: 6 1/3 IP, 5 ER, 8 H, 5 K, 0 BB (L)
September 14, versus Tampa Bay: 6 2/3 IP, 4 ER, 6 H, 3 K, 2 BB (L)
(Uh oh … )
September 21, versus Oakland:  8 IP, 0 ER, 3 H, 11 K, 2 BB (ND)
(That's more like it.)
And so, in today's rubber match against the Twins, Sabathia turned in another strong outing, allowing two runs in eight innings. He struck out ten and walked just one. He also got a lot of run support: After Minnesota took a 1-0 lead in the second, the Yankees batted around in the third to take a 6-3 lead. (That six run rally — single, single, walk, double, single, triple, wild pitch — came off Brian Duensing, because the Twins Samuel Deduno left the game in the second with irritation in his left eye.) The Yankees would score two more times in the sixth on a Chris Dickerson homer, and they'd go on to win 8-2.
With the Orioles hosting the Blue Jays tonight, the Yankees' lead in the East, temporarily, is up to two full games. It's probably time to start looking at magic numbers, too: To clinch a playoff spot (meaning at least a Wild Card berth), the number is four. But the more important number — the combined total of wins and losses needed to eliminate the Orioles from the AL East race — is now down to six. The Yankees have seven games left. After tonight, Baltimore will have just six.