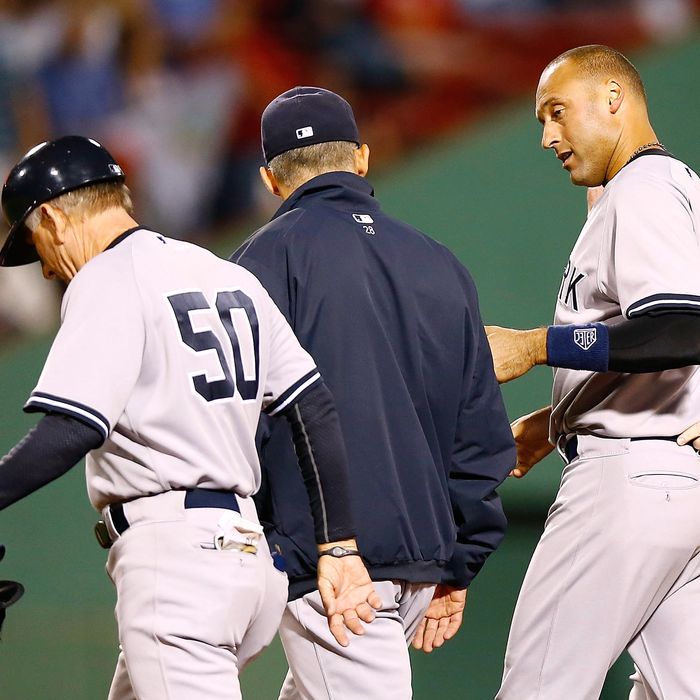 Derek Jeter, leaving the game last night.
So, the Yankees beat the Red Sox last night, 5-4. David Phelps threw five and two-thirds strong innings, Curtis Granderson homered twice, and the bull pen bent but didn't break and preserved the team's 80th win of the season. These are all good things. But it's not Phelps on the back pages of the tabloids today, nor is it Granderson, nor is it Robinson Cano, who also homered in the game. It's Derek Jeter, who left the game in the eighth inning after landing awkwardly on first base while trying to beat out a double-play ball.
Here's what we know about the injury: Jeter aggravated a bone bruise in his left ankle that he'd been dealing with for more than a week. It looks like he avoided a major injury, and this appears to be a day-to-day situation. Jeter vowed to play in tonight's series finale at Fenway, though, of course he would say that: Jeter famously doesn't like to miss games. He said the injury wasn't as bad as it looked but wouldn't say much more than that. We'll let him explain, via CBS New York:
"I don't talk about injuries," Jeter said after the 5-4 win. "Either you play or you don't. I'm playing, so it's not an issue. At this point in the season, I'm sure there are a lot of guys that have some things bothering them. I'm really never one to talk about them."
Now, it's admirable that he's not one to use injuries as an excuse. He's sort of preemptively saying here that as long as he's in the lineup, he won't explain away any potential drop in performance by pointing to his injured ankle. We have no doubt that he believes if he's able to play, even in pain, that not only will he be in the lineup but that he expects to perform at his best. But to say it's not an issue simply because he'll be in the lineup is nonsense.
Look, it seems like the Yankees dodged a bullet here. (To quote River Avenue Blues after the details of the injury were made public, Yankee fans were able to exhale a bit before going to bed last night.) It's possible the injury is no big deal because it's simply not that serious. But Jeter isn't superhuman. If this injury is something that's going to bother him physically — even if it's a nagging thing that won't necessarily keep him out of the lineup — the timing couldn't be worse, and just because he's playing doesn't mean it's not, or won't be, an issue.
One need look no further than Mark Teixeira, who returned to the lineup too soon last weekend, was hesitant to run hard at first, and then injured himself when he had no choice but to bust it down the line in the ninth inning. We don't mean to compare the two injuries, but the point is that just because Teixeira was penciled into the lineup that night didn't mean all was well. If Jeter's at less than 100 percent, he might still be better than the alternative, provided he avoids further injury, but it's still hardly ideal. Whether he wants to publicly discuss the state of his health, or instead simply declare it a non-issue, frankly doesn't much matter.
Jeter's had a fantastic year, and the Yankees desperately need him to produce in the final weeks as they fight for their playoff lives. (The Orioles won, too, last night,  and so the two teams remain in a tie for first in the American League East.) In a season in which the Yankees have dealt with injuries and underachievement in their lineup, Jeter's been the least of their worries. Fans should hope that remains the case.