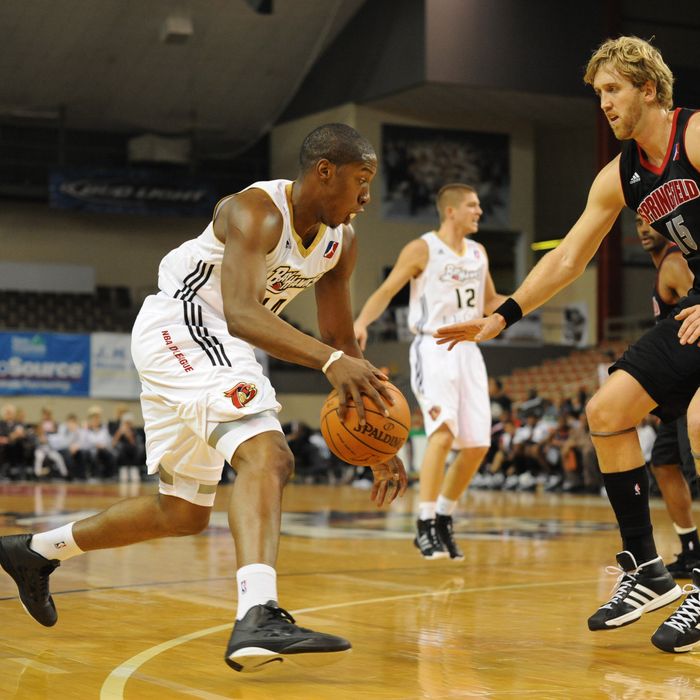 This could be you! All of this!
This is a public service announcement from your friends at The Sports Section. Some of you Knicks and Nets fans must be pretty good at basketball. Some of you might even be good enough to think you could play for those Knicks or Nets. Why not give it a try? Seriously! You can't just walk right on to an NBA team, but you can take the first step. Brooklyn's D-League affiliate, the Springfield Armor, is holding open tryouts at the Nets' practice facility on Saturday. The Erie BayHawks — New York's affiliate — have open tryouts on Monday at Baruch College, then on October 9 in Erie. Just gotta show up, play hard, make the D-League squad, play hard again, get called up, become an NBA star, get rich, and then give me like 50 percent of your earnings because I gave you the idea. 
I know some of you are like, "D-League? Pssh. I wanna go straight to the NBA." That's fine. You can just declare for the draft. Don't look down on the D-League, though. Jeremy Lin spent some time there before breaking out in New York. Nets fans surely enjoyed watching Gerald Green last year, and he spent quite a while bouncing around the D-League. It's a tried and true path to NBA success.
And don't worry if you're relatively out of practice or didn't play in college or whatever. Knickerblogger's Jim Cavan gave the BayHawks a try last year, and he's just a regular bro. Jim didn't make it, but he also didn't totally embarrass himself or die. I know at least one of you is seeing this and thinking "eh, I probably could." Do it! It'll be so cool! Come on!