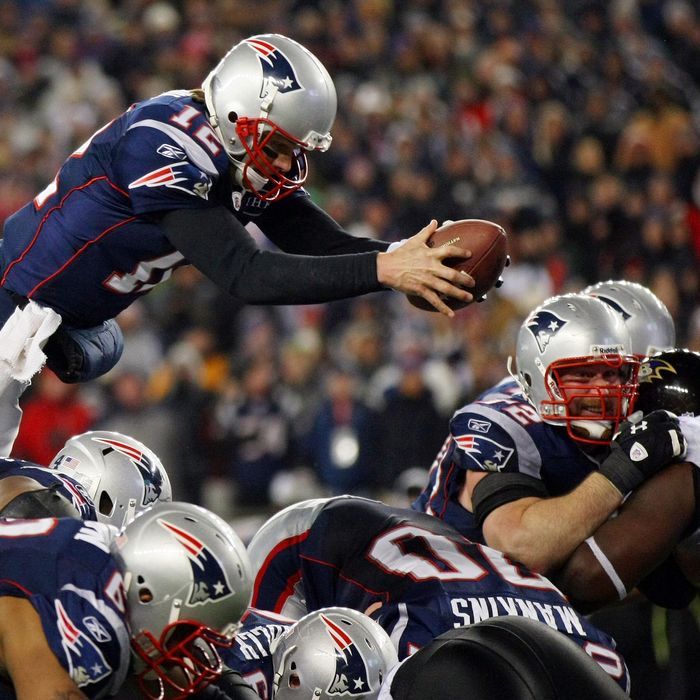 137420773JH106_AFC_Champion
The NFL season begins today, and it is our obligation, as Professional Person Who Writes About Sports Professionally, to make some predictions. As always, all predictions go gleefully wrong. Let's get this done and over with.
AFC EAST
1. New England 13-3
2. NY Jets 10-6
3. Buffalo 9-7
4. Miami 3-13
We know that it is fashionable — perhaps even prudent — to make fun of the Jets right now, but that defense is still outstanding, and you have to think they'll figure something out on offense. (Plus, hey, the stage is totally set for a Tebow small-sample-size second-half run.) That opener against the Bills is critical; it could turn the whole season for both teams. Even at this record, we sort of feel like we're overrating Miami.
AFC NORTH
1. Cincinnati 9-7
2. Pittsburgh 9-7
3. Baltimore 8-8
4. Cleveland 5-11
This feels like the year the wheels fall off this division, when every game starts to look like one of those Steelers-Ravens slopfest battles. The Steelers and (especially) the Ravens are aging super fast, and the Bengals would seem poised to take advantage. We know it seems bizarre to imagine the Steelers and Ravens dropping off, but they've been hesitant to rebuild and may face a reckoning over the next year or two.
AFC SOUTH
1. Houston 12-4
2. Tennessee 10-6
3. Jacksonville 5-11
4. Indianapolis 3-13
This is the division that might be clinched by November, though Tennessee's a little better than they're being given credit for. This is also, without question, the most boring division in football. They should toss in an old XFL team just to spice it up a bit.
AFC WEST
1. San Diego 10-6
2. Kansas City 9-7
3. Denver 7-9
4. Oakland 4-12
Every year people are up on San Diego, they get Norv'd: We think the opposite happens this year. People seem to have forgotten that Denver was in a massive rebuilding mode before Peyton Manning got there; honestly, we think he chose the wrong place. (Miami or even Arizona would have been better, to our mind.) Kansas City is a classic overhyped, sell-high team.
NFC EAST
1. Philadelphia 11-5
2. NY Giants 10-6
3. Dallas 7-9
4. Washington 5-11
All that Eagles talent is still there: They just need it to stay healthy. (Plus, Vince Young is gone, which has to improve karma.) The Giants, one suspects, will have no problem with a 10-6 record heading into the playoffs. Also, we think this will be the year when Dallas finally jettisons Tony Romo, at which time he'll go play for another team and be so much better.
NFC NORTH
1. Green Bay 13-3
2. Detroit 10-6
3. Chicago 9-7
4. Minnesota 4-12

The Bears should be better with Brandon Marshall as a nice target for Jay Cutler, but c'mon, people: Let's not get carried away. If Detroit could get hot in the playoffs one of these years, they could be for Football Outsiders what the A's were for Michael Lewis or (more accurately) the Rays were for Nate Silver.
NFC SOUTH
1. Atlanta 13-3
2. New Orleans 9-7
3. Carolina 8-8
4. Tampa Bay 3-13
We think this is the year everything finally converges for the Falcons and they end up with home-field advantage throughout the playoffs. (Whether this means Matt Ryan wins a playoff game or not, we shall see.) We love the theory that Drew Brees held out just so he could work out with Sean Peyton longer. Is James Gandolfini mad at Greg Schiano for leaving Rutgers?
NFC WEST
1. San Francisco 9-7
2. Arizona 8-8
3. Seattle 6-10
4. St. Louis 5-11
The 49ers will regress from last year, but not so much that they still won't win the division. The Cardinals' quarterbacks are terrible, but this they're-getting-the-No. 1-pick-next-season talk is crazy. (Even if it might be better for the team in the long run.) Part of us is wondering if we're underrating St. Louis.
PLAYOFFS
WILD-CARD ROUND
AFC: N.Y. Jets over Cincinnati; Tennessee over San Diego
NFC: N.Y. Giants over San Francisco; Philadelphia over Detroit
DIVISIONAL ROUND
AFC: New England over N.Y. Jets; Houston over Tennessee
NFC: Atlanta over N.Y. Giants; Philadelphia over Green Bay
CONFERENCE CHAMPIONSHIP
AFC: New England over Houston
NFC: Atlanta over Philadelphia
SUPER BOWL XLVIII
Atlanta over New England.
Enjoy the season, everybody.