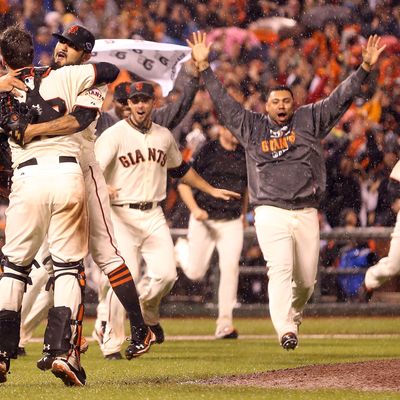 This year's Division Series were as compelling as they possibly could have been, with all four going five games and three of those having taut, nail-biting endings. (And the fourth one ending with Justin Verlander.) The League Championship Series … not so much.
Last night, the San Francisco Giants finished off their comeback from a 3-1 deficit in the NLCS, beating the Cardinals 9-0 to advance to the World Series. Since the Cardinals took a 3-1 series lead last Thursday, the Giants outscored them 20-1. The last three games of the NLCS were about as inspiring to Cardinals fans as the whole ALCS was for Yankees fans. But hey: They'll all always have the Division Series.
The day after your team is eliminated, everyone tries to make you feel bad, that your team has somehow choked or is losers or is some sort of embarrassment because they weren't able to finish a ridiculously small sample size series with one more win than their opponent. This is a shame. The Yankees had a great year this season, and so did the Cardinals. There are 26 other teams who would have been ecstatic to have the opportunity to make it this far. If you make it to the League Championship Series, your team is awesome. Even if it feels a little sadder that you just missed.
Regardless, the Giants and the Tigers will play in the World Series. It's the second World Series in seven years for the Tigers and the second in three for the Giants (hey, why wasn't everybody complaining about them being in the World Series all the time, about being sick of them?). These are two likable teams with two loyal, loud, proud fanbases, and they both even have fun mascots, though we're pretty sure a tiger could eat a seal. Detroit hasn't won the World Series since 1984, so they're the sentimental favorites. But this is the postseason, and, if we've learned anything, the postseason cares absolutely nothing about sentiment.