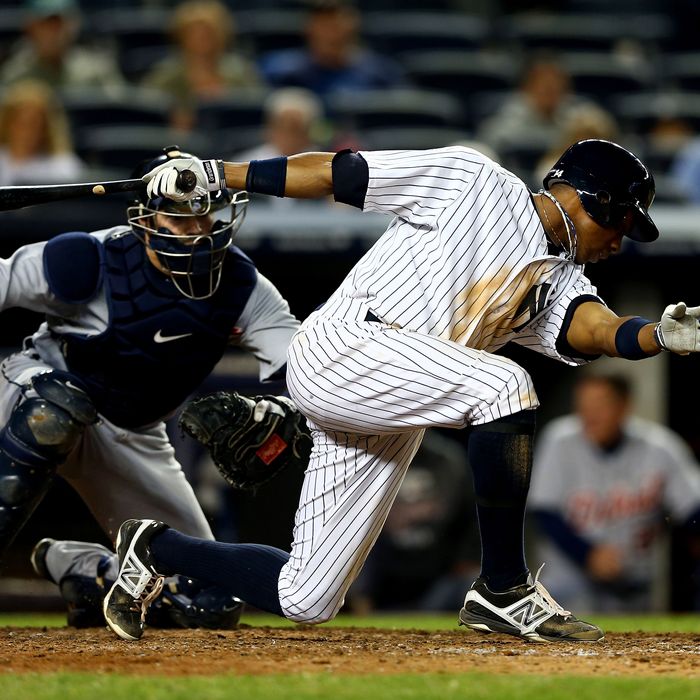 Last night, after the late news, the local Fox affiliate aired its weekly sports wrap-up show, and during a discussion about the Yankees, host Duke Castiglione suggested what Joe Girardi should do to right the Yankees' ship: "I'd put Gardner in center. I know Chavez hasn't hit well, but at least he's had some good at-bats. I'd put him at third base. I'd put Ibanez in the field, and I'd probably DH Nunez." We'll note that guest Ken Davidoff called this out as the crazytalk that it is, but still, these kind of measures wouldn't even be shouted by a WFAN listener — let alone suggested with a straight face by the host of a local sports show — if panic weren't starting to set in.
You can hardly blame fans — or anyone else — for being so down on the Yankees right now: It's tough to advance even this far in the playoffs with so many hitters struggling so badly at the plate, even given their excellent starting pitching. Yes, other things have worked against the Yankees: some bad umpiring, a weird schedule, and now an injury to Derek Jeter. But like Will wrote yesterday, the Yankees have no one to blame but themselves, and it's not all A-Rod's fault. Robinson Cano — who should be carrying this team — looks absolutely lost at the plate. Curtis Granderson and Nick Swisher aren't much better. And this has been happening long enough during these playoffs that it's impossible to simply chalk it up to great opposing pitching. At this point, we're pretty sure Cano would find himself down 0-2 in the count if his father was on the mound throwing him Home Run Derby meatballs.
For all the Duke Castigliones who want Girardi to make even more drastic changes, there isn't much he can really do beyond hope that guys who are supposed to hit finally begin to do so. Maybe mechanics need to be tweaked by Kevin Long, or maybe that won't even help. But sometimes, sports are pretty simple: You can assemble a team that's clearly capable of performing — the Yankees finished second in the majors in runs scored and on-base percentage — but the humans who make up that team need to actually go out and perform. And that's what's so scary about the Yankees' current situation: Girardi can shuffle the batting order all he wants, or play games with A-Rod that will likely do more harm than good in the long run, but he's helpless if this many hitters are this bad. His best lineup lately just hasn't been good enough, and panic moves like starting Eric Chavez at third (as he did in Game 5 of the ALDS) won't necessarily help.
A spare run here or there could have changed the complexion of this series, and a win in Game 3 would give the Yankees a chance to even the series on Wednesday with their ace, CC Sabathia, on the mound. But as it stands, they'll face Justin Verlander on the road tomorrow, in danger of falling into an 0–3 hole. Piled on top of all that is the physiological blow of losing Jeter, who in addition to being the team's captain was one of the few players who'd been, you know, actually hitting. Things should get better offensively, because they shouldn't have been bad in the first place. But time is running out.