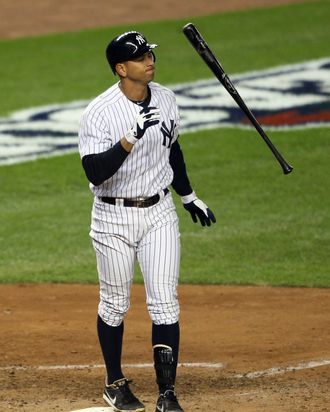 So Alex Rodriguez, who was dropped two spots in the batting order yesterday and has been pinch hit for in the ninth inning in each of the last two games, is not in the starting lineup for this evening's do-or-die Game 5. Robinson Cano is batting third, Mark Teixeira is hitting cleanup, and Raul Ibanez will DH and hit fifth. (Eric Chavez gets the start at third; he'll bat ninth.) This is really happening.
Some thoughts:
• We suppose Girardi's at least being consistent: If he doesn't trust Rodriguez in the ninth inning of a game, it stands to reason he wouldn't trust him in any other inning, either.
• A-Rod doesn't have a hit off a righty in this ALDS, but he has good numbers against tonight's starter, Jason Hammel: a .333 average, with four homers and four walks in 29 plate appearances. It's that first bit of information that Girardi seems to be weighing most heavily here.
• In his press conference a few minutes ago, Girardi also referenced Eric Chavez's numbers against righties this year. His numbers against righties were indeed better than A-Rod's during the regular season: Chavez hit .298/.365/.543 in 274 plate appearances against righties this year. A-Rod hit .256/.326/.391 in 356 plate appearances against right-handed pitching.
• When asked if he considered benching Curtis Granderson, Girardi mentioned that Granderson has had some good at-bats against Hammel this year. What clearly hurts A-Rod is the way the Yankees roster is constructed, he's easier to replace in the field: Chavez is a capable third baseman, but Ibanez is a defensive liability, and while Brett Gardner is terrific in the field, he's barely batted in an actual game since coming off the DL, and Girardi said it wouldn't be fair to throw him into such a situation.
• Girardi said he'd be willing to use A-Rod as a pinch hitter tonight, if, for instance, the Orioles bring a lefty out of the bullpen. If you're looking for the craziest possible narrative tonight, it involves A-Rod hitting a pinch-hit homer to win the game.
• Whether he wants to call it one or not, this is a panic move by Girardi. We understand that a short series doesn't offer much time to break out of a slump, but this is Girardi making decisions based, in large part, on performance in just a few ballgames. (Surely Girardi considered many factors, but the fact is if A-Rod had just a couple more hits this week, this wouldn't be happening, no matter what Chavez's splits look like.)
• Joe Torre batting A-Rod eighth in a playoff game might have been an insult, and Girardi pinch hitting for him in the ninth inning might have been a sign that a new phase of A-Rod's Yankees career has begun, but this is something else entirely. A-Rod's owed a lot of money over the next five years, and tonight, he'll watch a postseason game from the bench, unless Girardi calls his number as a pinch hitter. It's really unbelievable that we've gotten to this point. The idea that A-Rod is an October liability (except, you know, when he isn't) has always struck us as the type of harmless-enough tabloid-and-talk-radio fodder that gives everyone something to shout about in October and beyond. But the manager of the New York Yankees has apparently bought into it.
He says this is happening because A-Rod is struggling this week and because there's a righty pitching tonight, but even both of those things combined aren't enough for him to do this. He may not come out and say it, but he's behaving as if he believes that playing in October changes A-Rod for the worse, no matter what he witnessed in 2009 (or what A-Rod's career postseason numbers look like, or regardless of whether it's wise to be freaking out over these numbers anyway). Like we wrote the other day, pinch hitting for A-Rod in a playoff game indicates the start of a new phase in his Yankees career — one in which he's no longer guaranteed to bat in big spots the way that some of his teammates are. That move Wednesday was an acknowledgment from Girardi that we're dealing with a Rodriguez who's no longer the star he once was, but the demotions are coming faster and faster now. Pinch hitting for A-Rod worked on Wednesday. It didn't work last night. It's a stretch to say tonight's game — and this series in general — has become about Girardi. But win or lose, he's certainly left his mark on it.
In any case, the MLB Network reminded viewers earlier this afternoon that Reggie Jackson was once benched to start Game 5 of the 1977 ALCS, and went on to win World Series MVP. So, maybe something like that will happen here?