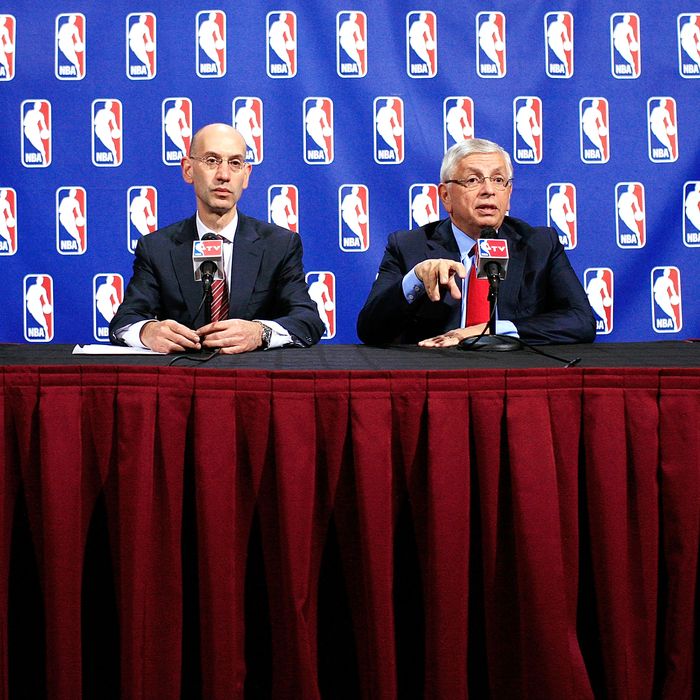 David Stern, right, sitting with his successor, Adam Silver.
Breaking news at this hour! NBA commissioner David Stern, speaking at the league's Board of Governors meeting this afternoon, set the date for his eventual retirement. Stern will step down from his position on February 1, 2014, naming current deputy commissioner Adam Silver his successor. The league's owners voted unanimously to "negotiate with" Silver to replace Stern, but it's pretty much set that the man you likely know only if you paid attention to the lockout or regularly watch the second round of the NBA draft will be the face of the league from 2014 forward.
That February 1 date wasn't chosen randomly (if it were, it'd be terrible timing; that's the middle of the season). February 1, 2014 marks exactly 30 years since Stern took office, and he'll end up as the longest tenured commissioner in the history of professional sports. Over those 30 years, quiiiite a bit has happened. Stern presided over some of the NBA's foremost landmarks, both good and bad — the addition of franchises, the Michael Jordan era, the creation of the WNBA, two lockout-shortened seasons, the Tim Donaghy scandal, the controversial sale of the Seattle Supersonics, the expansion of the league's reach (if not the league itself, yet) overseas, rule changes, drugs, dress codes, age limits … the list goes on forever.
The quality of Stern's legacy (which, mind you, still has another year and change to go) is up for discussion, but it's undeniable that the league has grown massively in his soon-to-be-30 years. It's not unusual to hear folks say Stern "saved the NBA." Whatever your opinion of the man, it'll feel pretty strange to have anyone other than him running the league come 2014.