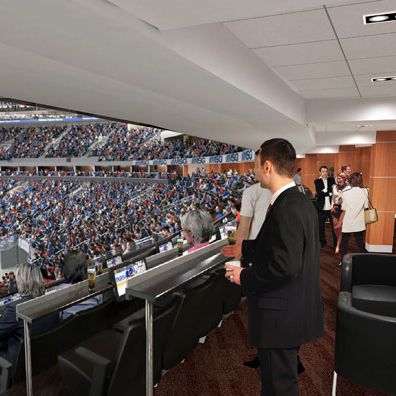 With all the business with Barclays Center, it has been easy to forget that Madison Square Garden is undergoing massive renovations for the second consecutive offseason. On Friday, we had the opportunity to head to the Garden and check out what they were up to over there.
So, three observations!
1. The upper bowl is entirely different. They've cleared out a lot of the extra tiered sections, so now the seats from the bowl go straight, all the way up, without all the starts and stops of different tiers. It looks more like a modern arena, with the seats more like an ampitheater, going back to the top of the arena. This will improve sightlines and bring the seats "7 to 10 feet closer," according to MSG, though it's worth noting that a common complaint last year was that there were too many seats in the new rows, that if you were in the middle of the row it would take you ten minutes just to get up and go to the bathroom. That's going to be an issue this year as well, with some rows having as many as eighteen unbroken seats. So you just have to weigh the improved sightlines against the annoyance of either stepping over people all game, or having people step all over you.
2. The blue seats are back. Sorry, we didn't grow up in the city, so the blue-seat thing is something that we confess to not quite understanding. (Joe's a better person to talk to about this.) Anyway, they eliminated them a couple of decades ago, infuriating so many fans that they brought them back this year. They're on the eighth level, just below the tenth floor party deck. The MSG folk giving the tour made sure to point out that they went through great pains to get the seats the exact right color. To be honest, the MSG people seemed a bit amused that people made such a big deal about the blue seats.
3. There's another nice concourse. The eighth-floor concourse is dramatically improved and will not only have some new food options, but also a section up top that counts down the biggest moments in MSG history. Here's a picture of it.
They also did a lot with luxury suites, but we never care about that. You can also watch a video below of the "transformation." Someday, you might actually be able to watch a hockey game there.