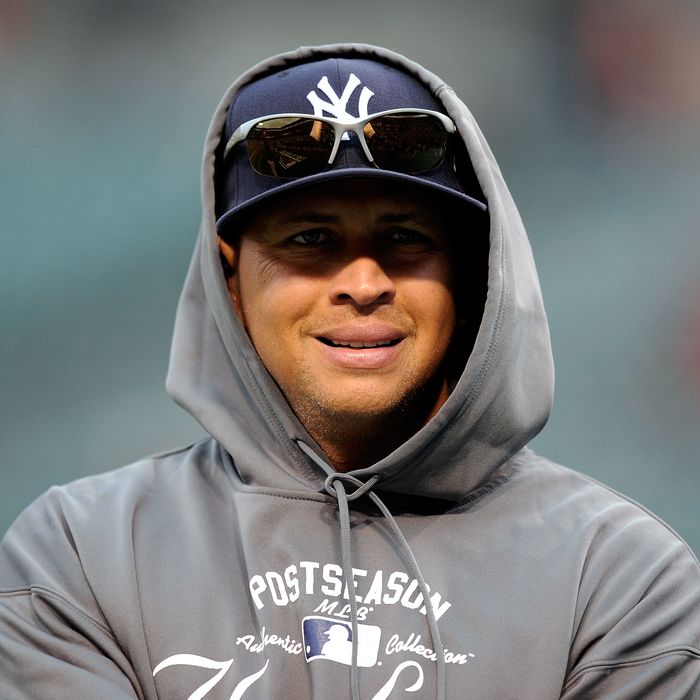 With Alex Rodriguez struggling at the plate once again this postseason — he's 1-for-9 with a walk and five strikeouts through the first two games of the ALDS — Joe Girardi hasn't ruled out dropping him in the batting order. (He batted third in Games 1 and 2, between Ichiro and Robinson Cano.) Joe Torre famously batted A-Rod eighth in Game 4 of the 2006 ALDS, and so with the Yankees' current manager mulling a similar move, here are five things he should keep in mind.
1. Robinson Cano should probably be batting third anyway. Dropping A-Rod only a spot or two in the order might not be a drastic change, but moving Cano — the Yankees' most dangerous hitter — further up in the order could be beneficial. Cano's rightfully inched up in the order this season: After batting fifth in two-thirds of his games in 2011, he hit third 57 times during the regular season and batted fourth 81 times. (Moving Cano up in the order was the plan out of spring training, though injuries to some of his teammates would have moved him up anyway.) Cano's batted cleanup in the first two games of the ALDS, but he's done so without much protection in the order: Hitting behind him has been Nick Swisher, who's postseason track record is much worse than A-Rod's.
2. Many of the usual candidates to move up in the order aren't hitting, either. Let's say that Girardi does decide to drop A-Rod way down in the order — plenty of his teammates are struggling as well. Swisher's 1-for-6 through two games and has a history of postseason struggles. Curtis Granderson is 1-for-7 and has turned into a pure slugger. (He hit 43 homers this year but posted an OBP of just .319.) Mark Teixeira has four hits in eight at-bats so far in the ALDS, but he went just 2-for-16 in four regular-season games after returning from the DL. Russell Martin, who hit a big home run in Game 1, doesn't have any other hits in the series and, despite finishing strong, had a rough regular season. Girardi can drop A-Rod way down in the lineup if he wants, but that means moving some or all of those batters up.
3. He doesn't have to drop A-Rod all the way down in the order. There's a compromise between keeping A-Rod in the three spot and dropping him to eighth like Torre did in 2006. Perhaps Girardi won't want to move all the aforementioned hitters up in the order, meaning he could choose to bat A-Rod, say, fifth. And if he's at all worried about A-Rod's psyche, this might be the wisest move if a move must be made. (Girardi said that he has a veteran team that understands that moves must be made but admitted, "You have to think about the emotional part."
4. This isn't 2006 anymore. When Torre dropped A-Rod in the order, he did so when the third baseman was in the prime of his career. (The 2006 season was sandwiched by A-Rod MVP years.) Moving him down in the order was questionable then, but it's less so now: This is an older A-Rod, one who's past his prime and not necessarily deserving of a permanent spot in the heart of the order. Eventually, he'll be moved further down in the lineup, so Girardi needs to decide whether the time to make that move (even on a temporary basis) is now, in the middle of a playoff series. (A-Rod, by the way, started just one game this season batting fifth; all his other starts came as the three-hitter or batting cleanup.)
5. A-Rod's postseason struggles aren't a permanent condition. Look, there's no denying that A-Rod's had issues in the playoffs in recent years. He's batting .111 so far this year, he hit .111 in the ALDS last year, and he hit .190 in the 2010 ALCS. But his career postseason numbers are solid: He has a .271/.380/.484 slash line in 70 postseason games and had a monster postseason in 2009. Was Watching yesterday pointed out how he's gone through both dominant and dreadful postseason phases over the course of his career. Maybe that's too small a sample size to break down further into meaningful chunks. Maybe none of it matters — the good or the bad — because those numbers mostly reflect the abilities of a younger, more dangerous A-Rod. But it's never been quite right to say A-Rod can't hit in the postseason. It's more accurate to say he hasn't been hitting in the postseason lately. Of course, that's sort of the problem.