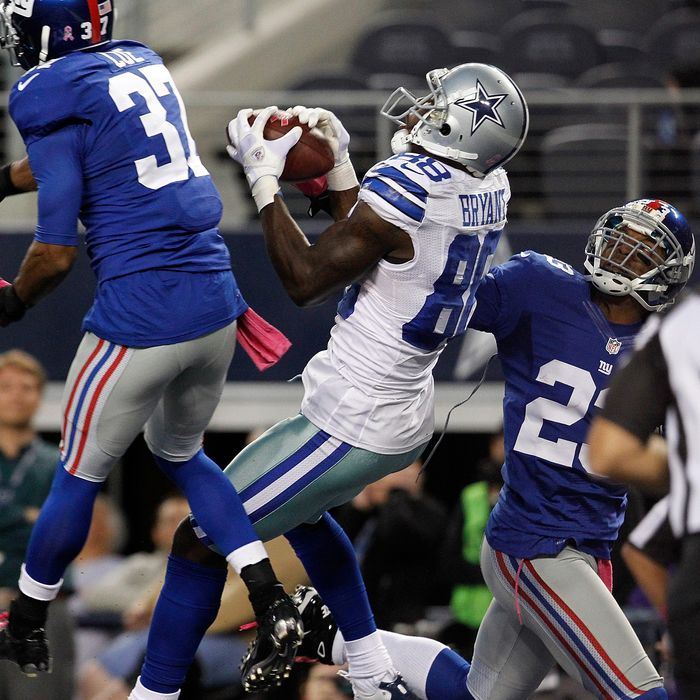 This could have been bad.
Hey, did you hear? The Giants erased a fourth-quarter deficit and rallied to beat the Cowboys yesterday! And though Dallas had the ball in the final minute down by five, they couldn't score the necessary touchdown to win the game. Awesome, right?
Well, kind of. The Giants, won, and ultimately, that's what matters. And they beat the Cowboys on the road, which is pretty satisfying no matter the circumstances of the game. But man, those circumstances.
To recap briefly: The Giants jumped out to a 23-0 lead early in the second quarter. By that point, Dallas had turned the ball over four times, including three Tony Romo interceptions. (The third of those was returned for a touchdown by Jason Pierre-Paul to give the Giants that 23-0 lead.) But Dallas would cut the lead to 23-10 by the half, and thanks to a pair of third-quarter touchdowns, led 24-23 at the end of the third quarter.
The Cowboys had scored 24 unanswered points by the time Lawrence Tynes made the score 26-24 with 10:20 remaining, and the game's scariest moment didn't come until late in the fourth quarter, with the Giants up 29-25. But what was originally ruled a miracle touchdown catch by Dez Bryant was overturned: Replays showed that his hand did indeed touch the out-of-bounds line as he hit the ground. It seems weird to say a team "escaped" with a win in a game that they'd led by 23 points, but the Giants managed to do just that. They really do like to make things interesting, don't they?
Specifics aside, though, that was a pretty huge win for Tom Coughlin's team: They split the season series with Dallas and evened their divisional record at 2-2. Most important, though, everyone else in the NFC East lost yesterday, and so at the halfway point of their season, they have a 2.5-game lead over both the Eagles and Cowboys. (The Giants, who have won four straight, are 6-2, and they're currently the only NFC East team over .500.) As for the Cowboys, we'll just direct you do this Times article entitled "Home Loss to Giants Leaves Cowboys Dispirited and Fans Disgusted." Like we said, even a scary win in Dallas is pretty satisfying.