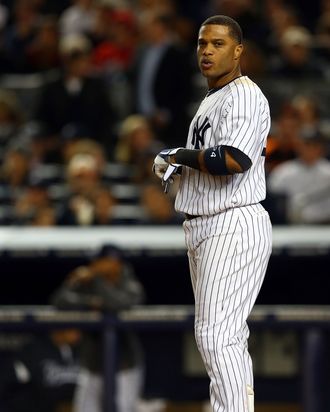 If one were to create a sort of Playoff Disappointment Matrix — with axes for expectations and performance — Robinson Cano would find himself in the corner of the wrong quadrant through four games of the ALDS. We're as guilty as anyone of focusing on Alex Rodriguez — the big-name, big-money third baseman who always seems to be involved in one bit of drama or another. And Curtis Granderson is hard to watch right now: He's 1-for-16 with nine strikeouts, but without any of the home runs that helped earned him his new reputation as an all-or-nothing hitter. (Without the occasional "all," he's producing something pretty close to "nothing.") But with guys like Rodriguez and Granderson, our expectations are lower than they once were, and not because of past playoff performance or concerns about "clutchness" or anything like that. In the case of Rodriguez, for instance, he's 37 and has numbers that have been dipping in recent seasons. In Granderson's case, he posted an OBP of just .319 this season as he's morphed into a pure slugger. Other bats have been mostly quiet as well — Nick Swisher, for example, or Ichiro — but let's talk for a moment about Robinson Cano.
Cano is in the prime of his career, and was one of the best players in the league this past season: He posted career highs in OPS and OPS+, and Baseball Reference had him second in WAR among American Leaguers, behind only Mike Trout and ahead of even Triple Crown winner Miguel Cabrera. Cano needs to be one of the hitters carrying this team, but through four games, he's just 2-for-18 with a walk. Give Cano credit for making those two hits count: In Game 1, he doubled in two runs in the ninth inning to pad what had been a 4-2 lead, and in Game 2, his first-inning double scored a run thanks to Ichiro's creative slide into home. But Cano's been hitless since the first inning of Game 2, and last night, he went 0-for-6, picking up an RBI on a ground out that Baltimore couldn't try and turn into a double play. He might not be having the most disastrous series of any Yankee, but given what they need from him, it's surely one of the more disappointing.
So far in this postseason, the Yankees' pitchers have stepped up, as have at least a couple of lineup regulars. (Derek Jeter has eight hits through four games and Mark Teixeira has five to go along with four walks). But given where he is in his career, we expect more from Cano. This isn't to suggest that something needs to be done, or that one should read something larger into his performance over an incredibly small sample. Short of moving him to the three spot in the batting order (where he probably should be hitting anyway) and giving him a bit more protection, there's not much Joe Girardi can do. (Or at least, we hope he doesn't think there's anything he can do.) But Cano hasn't been hitting — not enough, at least — and in a short series, there isn't much time to find one's swing. He's got one game left, and it's a rather important one. Some of his teammates look borderline hopeless at the plate, but we've seen flashes of the real Cano in this series. This evening would be an excellent time to see that Cano show up again.