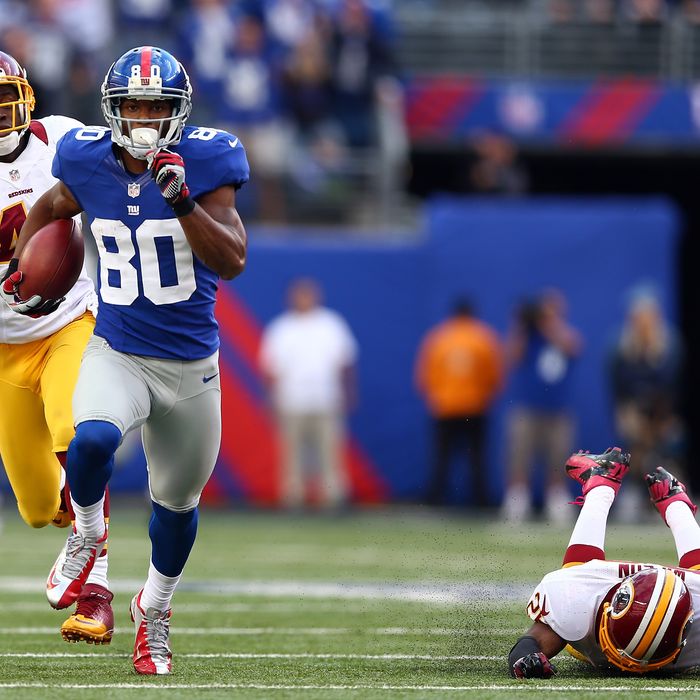 All the usual disclaimers apply to yesterday's Giants game: It's not ideal to trail so often in the final minutes of a game, even if you do employ a quarterback with a knack for pulling such games out. Fourth-quarter comebacks are great and all, but, obviously, better play earlier in the game would eliminate the need for late-game drama. Now, with that out of the way, OHMYGOD DID YOU SEE THAT?!?
It's really rather incredible how all of these Eli Manning–led comebacks blend together after a while, but yesterday's might stand out just a little bit more than the others. Consider that it came against a divisional rival with a quarterback who'd appeared to lead his own game-winning drive just minutes (in real time) earlier. And then factor in that the winning score came on a 77-yard play: A methodical touchdown drive would have been every bit as effective (and eaten up more clock, too), but there's a "holy shit!" element in play here. The circumstances were different, but a few weeks ago, in the fourth quarter against the Eagles, the Giants' love of the deep pass drove us mad. But yesterday, on a second and ten from their own 23, it worked perfectly. Final score: Giants 27, Redskins 23.
This had become a sloppy game by the time the Redskins (four turnovers on the day) and Giants (two on the day) traded late touchdowns. Washington fumbled three times in the fourth quarter, losing two of them, and the game effectively ended when Jayron Hosley recovered Santana Moss's fumble in the final minute. Not that Manning played flawless: He threw two interceptions on the day, including one in the fourth quarter on the first play after the Giants recovered a fumble. Washington would kick a field goal on their ensuing possession, and they'd add a touchdown some four minutes later to take a 23-20 lead.
Had Manning and the Giants' offense not come through with at least a field goal on that final drive, Robert Griffin III would have been the hero yesterday. He was responsible for a couple of turnovers, but he also threw for 258 yards (completing 20 of his 28 passes) and ran for 89 more. Rooting interest aside, our favorite play of the game came in the fourth quarter when Griffin, facing a fourth and ten, scrambled to his left and found himself being chased by Jason Pierre-Paul. It couldn't have been scripted better — two of the league's most athletic players finding themselves, however briefly, one-on-one in a crucial situation. Unfortunately for the Giants, Griffin won the mini-battle, eluding Pierre-Paul and buying time until he could hit Logan Paulsen with a nineteen-yard pass, good for a first down. Needless to say, we can recount all of this a lot easier this morning knowing what the Giants did when they got the ball back.
And so the Giants picked up their first divisional win of the year in three tries, and upped their overall record to 5-2. The Eagles had a bye and Cowboys won, meaning the Giants now lead both Philadelphia and Dallas by a game and a half. Next week brings another NFC East matchup: A visit to Cowboys Stadium, where the Giants have yet to lose.