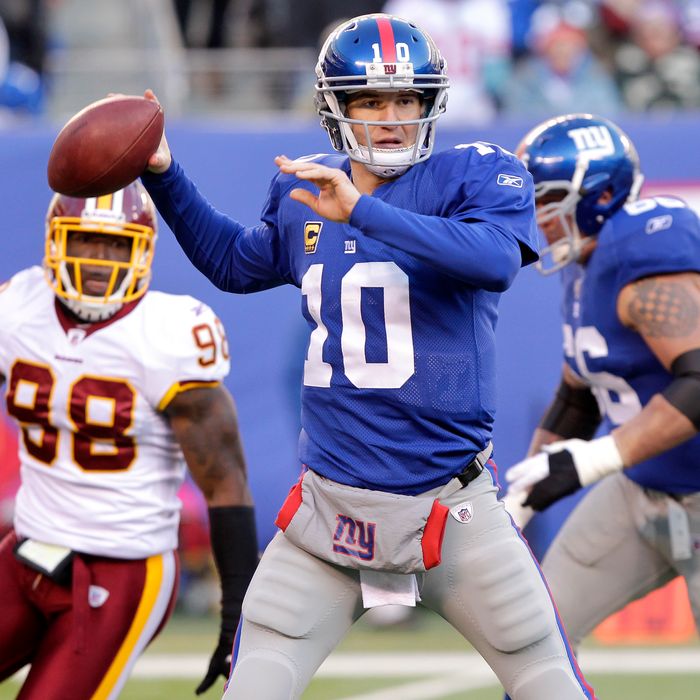 Eli Manning, against the Redskins last season.
There was so much to like about last week's Giants win in San Francisco, but if there's anything we've learned while watching the Giants over the past couple of seasons, it's that a strong performance one week doesn't guarantee another the following week. And so just because the Giants pounded Alex Smith and company on the road last week and just because the defense recorded six sacks against two different 49ers quarterbacks, there's always the chance that the Bad Giants will show up for a week and force us to once again recalibrate our expectations.
In fact, this was never clearer than it was last year, when the Giants won so many huge games but also lost twice to a Redskins team that won just five games all year. (The second of those losses, at home in Week 15, was especially inexusable.) A loss to Washington this Sunday wouldn't be quite so embarrassing; after all, the 2011 Redskins didn't have Robert Griffin III at quarterback. And so, containing RG3 on Sunday, obviously, will be key. Griffin is not only an accurate passer, with an NFL-best 70 percent completion rate — he can hurt teams on the ground as well. (You saw this, yes?) The ground game is a huge part of the Redskins' offense, so keeping fellow rookie Alfred Morris in check will be important as well.
But while the Giants' running game has been strong in recent weeks, this could be a huge day for Eli Manning and his receiving corps. Washington has given up a league-worst 328 passing yards per game, and they've allowed eight different receivers or tight ends to pick up 100 yards or more through the first six games of the season. With losses to Dallas and Philadelphia, the first-place Giants don't have a win against an NFC opponent yet this season. They can do something about that on Sunday. Giants 31, Washington 17.