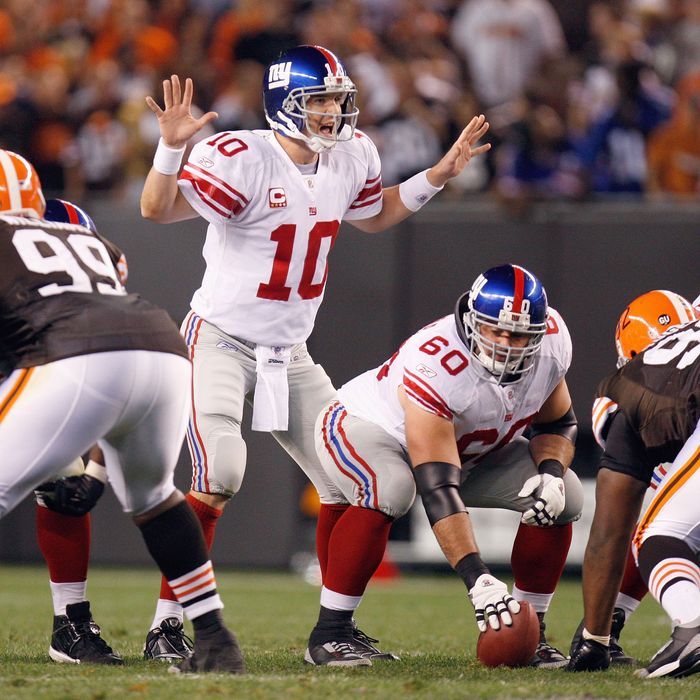 Eli Manning against the Browns in 2008.
Much has been made about the how difficult the Giants' schedule is this year. They're in a competitive NFC East, and thanks to their successful 2011 season, they've got an especially tough non-divisional schedule. Sunday's game, against the 0-4 Browns, should be a break from the drama that finds this team every Sunday (or Wednesday, or Thursday, or whenever the NFL decides to schedule them). In theory, this should be easy.
So what exactly can the Giants expect at the Meadowlands on Sunday? Well, Cleveland's ranked 25th in both yards and yards allowed per game. They haven't had the easiest of schedules so far — three of the four teams they've lost to have begun the season 3-1 — but the Browns have now lost ten straight games dating back to last season. Cleveland has rookies at some key offensive positions: Quarterback Brandon Weeden has thrown seven picks so far to along with his three touchdown passes, but Trent Richardson, the third overall pick in this year's draft, has a 100-plus yard day and three TDs under his belt already.
The Giants, meanwhile, remain banged up: Hakeem Nicks, for instance, still isn't ready, and Ramses Barden won't play either. (There are injuries on both sides of the ball: Kenny Phillips will be out for at least a few weeks, though the diagnosis of a sprained right MCL could have been worse.) But despite those injuries, one hopes this week will look like that Carolina game from Week 3, where the offense clicks and the defense does its job and David Carr gets to play and everyone can just look ahead to the following week. There won't be many of those games this season, and honestly, this Giants team has the rare ability to scare good teams while also scaring its own fans when it plays weak teams. But they've got this one, right? Giants 27, Browns 10.