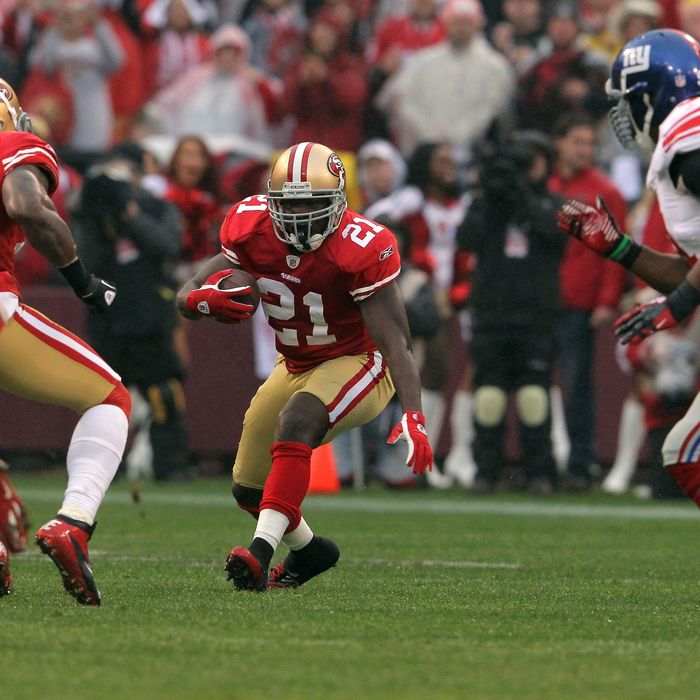 San Francisco's Frank Gore.
It's pretty safe to assume that the San Francisco 49ers have had this Sunday's game against the Giants circled on their calendars since the season began, offseason acquisitions included. The Niners' gut-wrenching, error-ridden overtime loss to New York in last year's NFC Championship game cost them a trip to the Super Bowl, and they're motivated to clear up its everlasting stench.
They look pretty qualified to do it, too. New York's defense has been carved up on the ground the last couple of weeks — most recently by Cleveland's Trent Richardson — and San Francisco's running game is the best in the land thus far. Frank Gore, Kendall Hunter, & Co. average almost 200 yards a game. Combine that with Alex Smith's passing game (which includes the familiar Mario Manningham), and you have an offense that's every bit as productive as New York's. San Francisco's defense, though, vastly overshadows that of the Giants. Eli Manning surely remembers getting steadily thumped throughout that NFC Championship win in January. Whether Manning has Hakeem Nicks back to receive remains to be seen.
Meanwhile, another former Giant, Brandon Jacobs, has yet to take the field for the 49ers despite claiming his knees are totally healthy. He wants very badly to play this week, and expressed some frustration just a few days ago (he's since backtracked somewhat). Jacobs debuting against his old team doesn't sound likely, but he and Manningham have surely done their best to share New York's deepest secrets (something the Giants anticipate and about which they're not too worried).
Ultimately, the New York offense should give San Francisco more trouble than they've had all season, but unless New York can force some of the same wacky turnovers that paved their way to the Super Bowl last year, they don't look prepared to keep San Francisco from scoring in excess. 49ers 34, Giants 24.