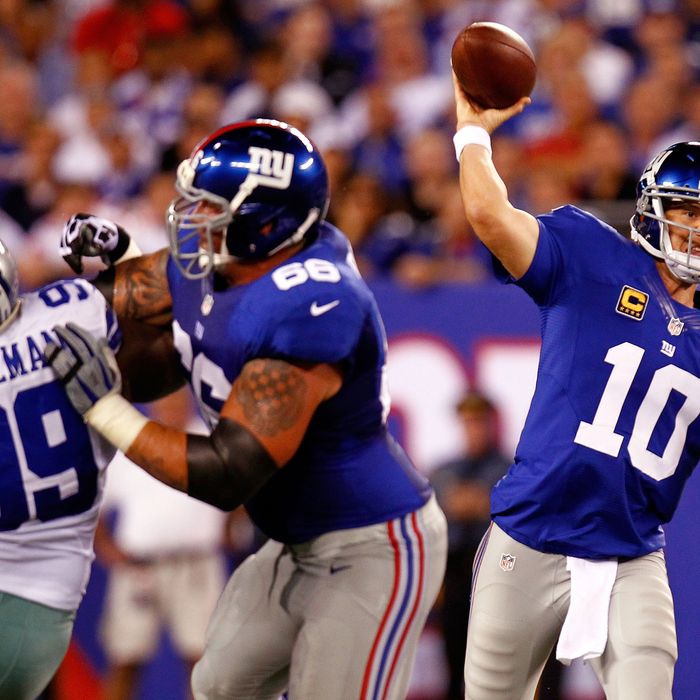 It was the Cowboys' fault this Giants season started off on the wrong foot. In Week One, Tony Romo passed himself a career game, throwing three touchdowns to just one interception in a 24–17 victory. Dallas pressured and punished Eli Manning and denied him that coveted final opportunity to come back and win.
Weeks later, there's reason to believe the Giants can avoid the same Week One ailments. New York's offensive line has done a splendid job of protecting Manning over the last few games, and Dallas will play without linebacker Sean Lee, who led them in tackles in that first win, but is done for the season owing to a toe injury. So, that's fortunate.
Also fortunate: The short-handed Giants secondary (they were missing Prince Amukamura and lost Michael Coe) that got kinda lit up by Romo in the first game looks much healthier and stronger these days. Romo's been very generous with his interceptions since Week One, and New York is better prepared to take him up on those offers.
Meanwhile, Ahmad Bradshaw skipped practice today and is listed as questionable to play Sunday, but everyone sounds wholly optimistic that he'll start. How much he carries the ball through his foot injury will be a point of focus for obvious reasons.
On top of all of the above, New York has won three straight, and they're a perfect 3-0 in their short history in front of the massive Cowboys Stadium crowd. With the promise of a nice, fat division lead on the line, things seem to bode pretty well for the Giants. Giants 30, Cowboys 13.