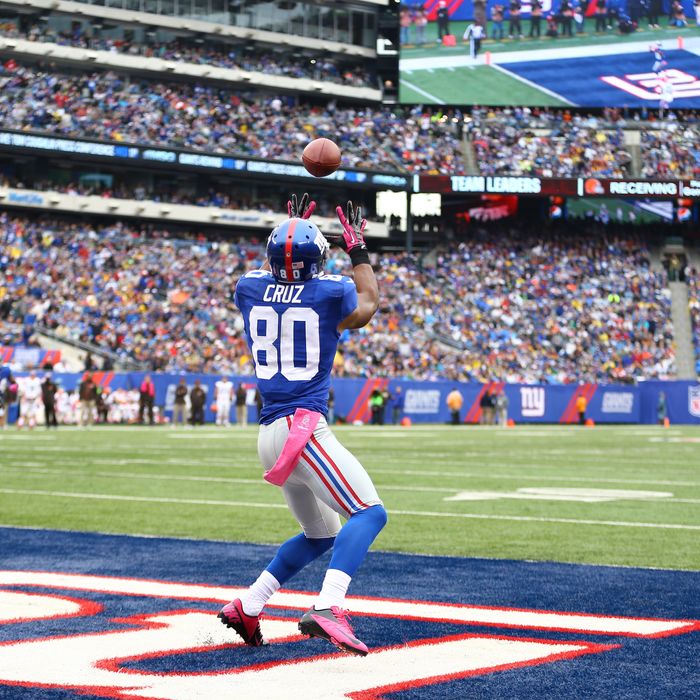 If you hadn't seen any of yesterday's Giants-Browns game and just saw the score on the ticker along with a couple of stats, you might have thought it was a drama-free affair — a comfortable victory for the defending champion against a team that's yet to win a game all season. And at the end of the day, the 41–27 final score does accurately capture the day: The Giants were the better team, scoring 27 unanswered points in the second and third quarters and winding up with a two-touchdown margin of victory. But yikes, that start.
It's hard to imagine a more disastrous sequence of events following the opening kickoff: David Wilson returned the kick to just the Giants fourteen-yard line, and then on the very first play from scrimmage, Ahmad Bradshaw lost a fumble, giving the Browns the ball at the New York 22. Two plays later, Trent Richardson ran in for a touchdown, and the Giants trailed 7–0 less than a minute in. Some four minutes later, Cleveland would strike again, this time on a 62-yard Brandon Weeden pass to Josh Gordon, to give the Browns a 14–0 lead. To make matters worse, with the Giants down by two touchdowns, it appeared that they might have lost tight end Marcellus Bennett to a knee injury. It felt like rock bottom. Thankfully, it was.
The Giants would seize control of the game in the second quarter, capitalizing on Cleveland mistakes and taking a 27–20 lead into the locker room at halftime. They'd extend their lead in the third quarter on Victor Cruz's third score of the day, and then put it away in the fourth on a 40-yard Wilson touchdown run. (The Giants had an effective day on the ground: Ahmad Bradshaw ran for 200 yards, and Wilson, who still needs to earn his coach's trust, at least as a running back, carried just twice, but got terrific blocking on his long touchdown run.) Eli Manning, by the way, threw for another 259 yards; though in five weeks, only Drew Brees has thrown for more yards this season. Oh, and Bennett returned to the game.
Eventually, this turned into the easy win Giants fans hoped it would be. Your 2012 Giants: Even the easy wins involve some sort of drama.