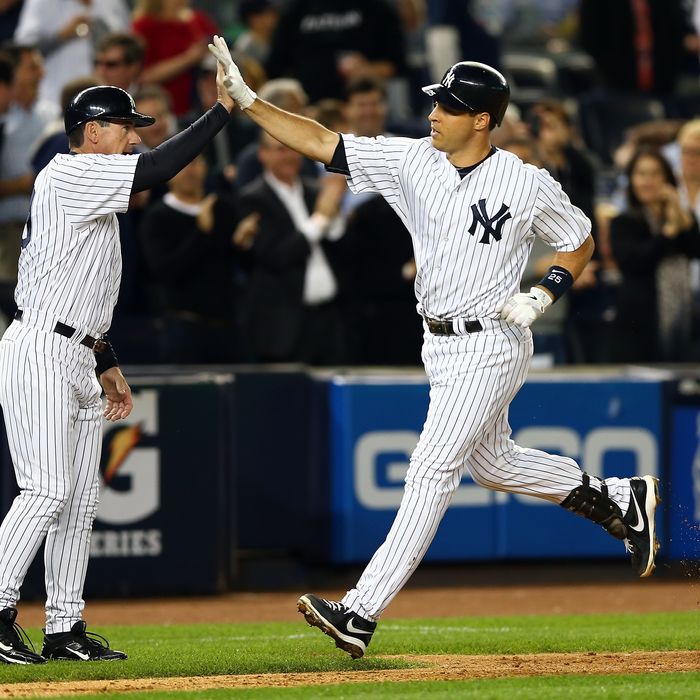 The Yankees' final series of the year — as well as a couple of other series around baseball — will determine exactly what kind of playoff position Joe Girardi's club will end up with. Entering this final series against Boston, their options included (in descending order of desirability) winning their division and finishing with the American League's best record, winning their division but not finishing with the A.L.'s best record, and settling for a Wild Card (and a spot in the scary, scary one-game playoff on Friday). And so last night — the first night of the baseball season's final series — couldn't have gone much better for the Yankees.
Consider all that happened last night:
• The Yankees scored nine times in the second inning of their game, knocked Clay Buchholz out after just one and a third innings, and cruised to a 10-2 victory over Boston.
• The Orioles, meanwhile, lost to the Rays, to fall one game out of the division lead. The Yankees magic number to clinch the East is two.
• In that Yankees game, Mark Teixeira played for the first time since re-injuring his calf in Baltimore and hit a home run (one of four the team would hit in their monster second inning).
• Oh, and CC Sabathia had another strong outing, his third in a row after hitting a rough patch in late August and early September. If the Yankees win the division, he'll be lined up to start Game 1 of the ALDS this weekend.
• Meanwhile, in Oakland, the A's beat Texas, meaning the Yankees and Rangers now have identical 93-67 records and are tied for the American League's best mark. The winner, remember, gets to face the Wild Card survivor. (Worth keeping in mind, though: The Wild Card game winner, whoever it is, will have a better record than the Central division champion Tigers, who will face the division winner with the second-best record.)
David Phelps, starting in place of the ineffective Ivan Nova, goes against Jon Lester tonight. The Yankees can clinch the East and avoid the madness of a one-game playoff, but they'll need some help from Tampa Bay. Miguel Gonzalez pitches for the Orioles in St. Pete, while James Shields gets the ball for Tampa Bay.