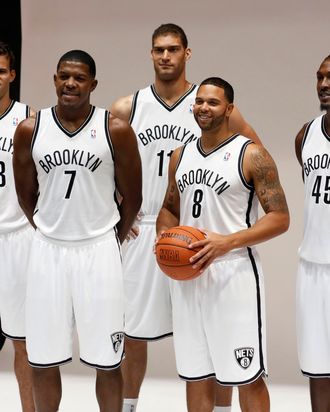 A friend of ours who is a die-hard Knicks fan — who stuck with the Knicks through everything and admitted that dropping Jeremy Lin was "the hardest thing to take yet" — constantly reminds us of just how much this "Nets are in a battle for New York!" business is. The Knicks, for all their Dolan-related woes, are one of the signature franchises in the sport, with decades of history, with their DNA ingrained into the dirt and concrete and air. (That was his mixed metaphor, not ours; we like to think we'd have come up with a better one.) The idea that the Nets could approach that, just because they have a shiny new building and a cool logo and Jay-Z, is fallacy. They have a long, long way to go.
Yesterday was a pretty good sign as to why, though it's not necessarily something the Knicks should take a ton of pride in. It was Media Day for both teams, which means, for the first time, both franchises were on the same footing, doing the same thing on the same day. Thus, it's an ideal first-time control group to find out the direction of the city's media coverage this year.
It wasn't really close. The Daily News had two stories on the Knicks' media day — a Mitch Lawrence column mocking them for talking championship and a Frank Isola piece noting how Jeremy Lin was "persona non grata" for the Knicks yesterday — before their one piece on the Nets' "swagger." The Post had three stories on the Knicks (one on Raymond Felton, one on Carmelo Anthony, and one on Jeremy Lin) and, after that, two on the Nets (one on the Nets' thoughts on Barclays, one on the Nets' lack of defense, a rather underreported thing this off-season, actually). It was 2-1 at the Times: one on Knicks Day, one on Lin, and one on Nets Day.
A lot of this is because of the Knicks' silence on Lin up to this point and the ongoing fascination with him; no one's doing vast web searches for Marcus Camby. But the Knicks were definitely the first story in every case, despite all the Nets goodwill and high spirits. (Even if those "first" stories were mostly chronicles of their screwups.) Lin will vanish from the New York coverage in the next couple of days, eliminating that from the discussion for a while, so we'll have a more even playing field and our next set of data points.
(From the Sports Section's perspective, we'll be covering both teams but almost certainly the Knicks more, at least to start. We're treating it like a Yankees-Mets comparison — with the Yankees a little higher than the Knicks and the Mets a little higher than the Nets — until convinced to do otherwise.)