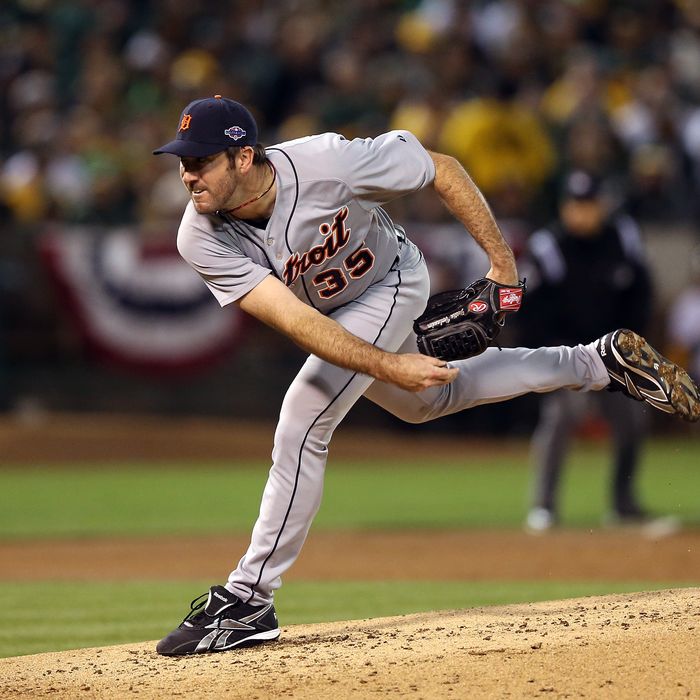 Last year, on the eve of the ALDS, we looked at Tigers ace Justin Verlander, who'd just finished up a regular season for which he'd be rewarded with both the Cy Young Award and the MVP. And we noted at the time that Verlander had hardly dominated the Yankees during the regular season, and that based on a small sample of games from his rookie year, didn't have especially good postseason numbers. And so with the Yankees set to face Verlander in a critical ALCS Game 3 tonight, we'll point out that those things are mostly true once again. The Yankees faced Verlander three times this year, holding their own twice before getting shut down the final time they faced. And thanks to an unspectacular 2011 playoffs, Verlander's career postseason numbers are still not great. Of course, these are very small samples — the sorts of things fans can tell themselves in an attempt to be less worried about the Tigers ace. Because the fact is, he's about the last guy they'd want to face as they attempt to break out of their historic offensive funk.
Verlander won't win the MVP this season, but as Joe Sheehan pointed out in his newsletter today, the difference between his 2011 season and his 2012 season isn't all that large. He also points to a lesser defense behind Verlander — responsible for a 38-point jump in his BABIP allowed — and we'll note that in three games against Verlander this year, the Yankees scored five unearned runs. But Verlander is still scary: He led the majors this year in strikeouts, innings pitched, complete games, ERA+, and pitching WAR.
And despite his past postseason struggles, the Tigers' ace was outstanding in the ALDS. He threw seven innings of one-run ball in Game 1 againt the A's, striking out eleven and earning a win. And then in the decisive Game 5, he was even better, tossing a complete-game shutout, while striking out eleven more batters and walking just one. (Based on Bill James's Game Score statistic, Game 5 was his second best outing of 2012, behind only his one-hit shutout of Pittsburgh in May.)
Look, this is baseball, and as a certain announcer is fond of telling listeners, you can't predict baseball. (Not that it's stopping anyone: Baseball Prospectus has the Tigers PECOTA odds of winning tonight at 62.1 percent.) But the Yankees have struggled against lesser pitchers than Verlander this October, and the stakes are high: A loss tonight, and they'll face elimination tomorrow. Verlander is awesome, but hey, Phil Hughes has already out-pitched him once this year. Maybe it'll happen again.