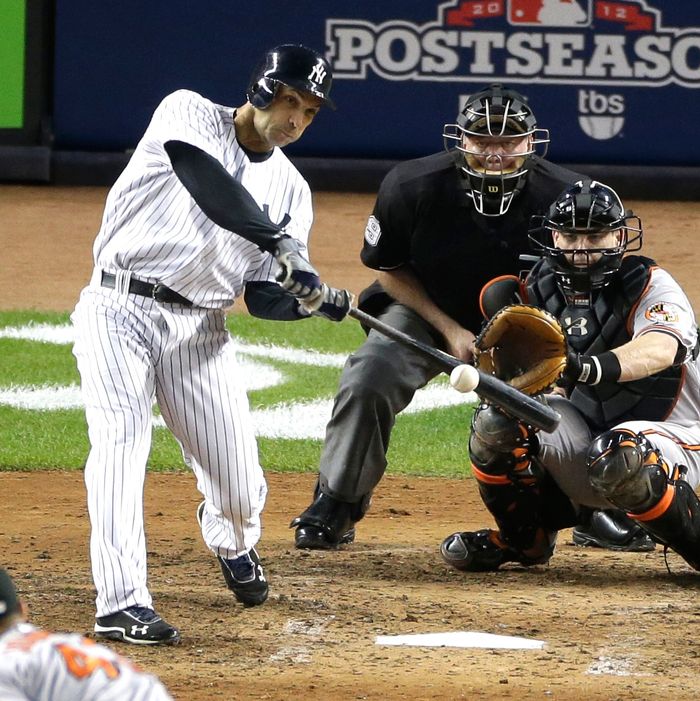 Since he became manager of the New York Yankees in 2008, Joe Girardi's primary contribution to The Empire has been to keep the trains running on time. (We called the Girardi Era "the era of boring dominance.") He makes no wildly risky moves, he trusts guys to pull themselves out of slumps, and he generally comports himself in a quiet, professional, almost unobtrusive way. For a guy who has won a World Series in the Bronx, you could argue that he hasn't really made a lasting mark — he hasn't imposed himself on the team and the franchise in the way so many managers have before.
Well, until tonight anyway.
In one of the craziest, ballsiest, I-can't-believe-he-did-that moves you will ever see a manager make, Girardi, with the Yankees down 2–1 in the bottom of the ninth, pinch-hit for the struggling-but-still-Alex-Rodriguez with 40-year-old Raul Ibanez … who then hit a stunning game-tying homer, sending the Yankee Stadium crowd into apoplexy. Of course, that was nothing compared to the bottom of the twelfth, when holy shit Ibanez did it again, blasting Brian Matusz's first pitch to nearly the same spot to beat the Orioles 3–2 and take a 2–1 ALDS lead.
It was just insane, all of it. Suffice it to say: No matter what happens in the rest of this series or the rest of the postseason, you're going to be seeing Raul Ibanez at Yankees Old-Timers Day even if they have to wheel him out there. The guy essentially became Tino Martinez and Aaron Boone in the span of about 45 minutes.
And all because Girardi made such a wild decision. Think about all that goes into a decision like that. You have to:
 a)   Acknowledge that this is going to change the relationship between Alex Rodriguez — a man your team will be paying $119 million over the next five years, a surefire future Hall of Famer, one of the most recognizable athletes on earth — and essentially everyone he will interact professionally with for the next five years and perhaps the rest of his life, most notably and perhaps most importantly himself, his manager;
b)   Throw out not just the notion of Girardi's "binders" but also every aspect of baseball research (sabermetrics, scouting, whatever) that would imply such a move is lunacy;
c)   Trust Raul Ibanez, a man who has earned a reputation for clutch hitting but is still 40 years old and, after all, was coming off the bench in a huge postseason game;
d)   Admit that you made a mistake — even if it wasn't actually a mistake — by putting A-Rod in the game in the first place and batting him third;
e)   Make your managerial decision as if you were a growling 2 a.m. WFAN caller.
And it worked. TWICE. Baseball is so, so crazy.
Ibanez was pretty much the whole offense; no other Yankees could hit, A-Rod or otherwise. Miguel Gonzalez, a guy who a year ago was putting up a plus-5 ERA for Boston's Triple A team, was masterful, throwing seven innings and giving up just one run, seven strikeouts, five hits, no walks. He also retired the last six batters he faced and eleven of the last thirteen, making the Yankees look ridiculous all night. For all the talk of A-Rod, Curtis Granderson looked just as lost. You can't move all of these guys down in the order. The only Yankee run that did score came because of a strange route taken by Orioles center fielder Adam Jones on a Derek Jeter triple, a play that led to a legitimate discussion as to whether or not blowing a bubble while chasing a fly ball in the gap would be classified as "distracting." (The general consensus? A little, but not nearly as distracting as the Apple Maps route Jones took to the baseball.)
It led to a 2–1 loss and more Oriole Magic … until Ibanez basically carved his name into Monument Park.
So! The Yankees still have another game to win, and there are all sorts of questions, and the most important one isn't even about A-Rod. Jeter left the game in the ninth inning with an injury, and his status so far is uncertain. Think about that for a second: Derek Jeter left a postseason game with an injury, and someone pinch-hit for Alex Rodriguez in the ninth inning of a one-run game. The Yankees got rid of their Yankees; they went into the ninth inning without Jeter, without A-Rod, without Rivera. And they pulled out one of their most improbable victories ever. It's as crazy a night, and as wild a win, as you will ever see. You'll hear tons about Ibanez and A-Rod and all that tonight and tomorrow, but this win happened because Joe Girardi, Mr. Conservative, Mr. Midwest, Mr. Boring … he finally let his freak flag fly.