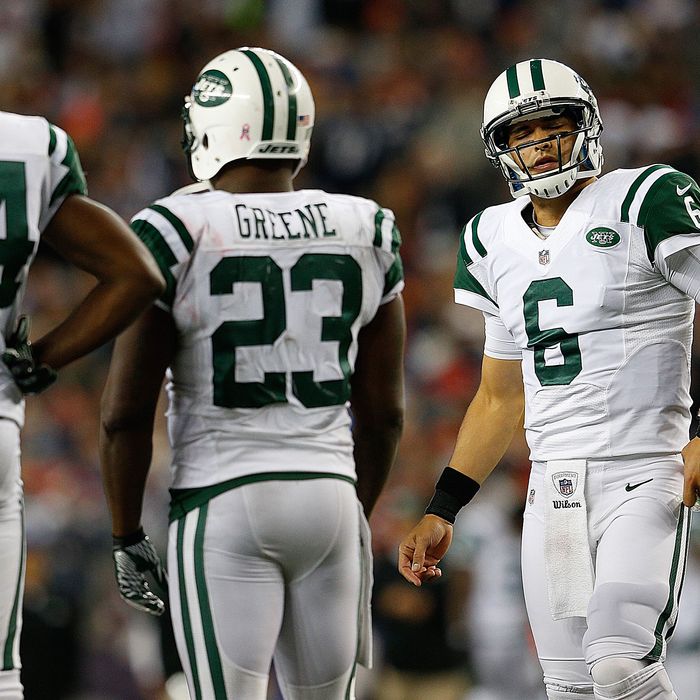 The temptation, as always, is to just start railing on the Jets in the wake of their tough, tough 29-26 overtime loss to the Patriots yesterday. After a thrilling ten-point comeback, they had every chance to win late, driving down the field for a potential game-winning field goal. But, as the Daily News put it, the Jets didn't trust Mark Sanchez. They got conservative when they needed to be aggressive, and they didn't allow Sanchez to win the game for them. On one hand, yes, that is what they appeared to do. On the other hand … since when does anybody trust Mark Sanchez?
Here's the situation. After a crushing Patriots fumble on a kickoff, the Jets had the ball on the Patriots' eighteen-yard line with 2:01, the score all tied up. Sanchez had played well all day — even while missing a couple of opportunities — and, theoretically speaking, this would seem the time to let him go out and beat the Patriots. It's the perfect opportunity: Just one first down, and the Jets could set up Nick Folk for the game-winning field goal as time expired.
Instead, the Jets clinched up. With Shonn Greene on the sidelines, the Jets ran two ultra-conservative running plays, one with Tim Tebow plunging up the middle and one with Joe McKnight gaining one yard. The next play, Sanchez took a ten-yard sack, and the Jets had to kick the field goal … all after running just 24 seconds off the clock. That was too much time for the Patriots, who marched down the field — the Jets defense was awfully conservative there itself — to tie the game, then won it in overtime on a Sanchez fumble.
The Jets had been oddly aggressive earlier in the game, when they faced third-and-2 on the Patriots'$2 3 in the third quarter, down by six. Rather than give the ball to Tebow or Greene or anybody, they had Sanchez throw a slant pass that the Patriots saw coming and batted down. The Jets were running when they should have been throwing, and throwing when they should have been running.
There are a lot of positives to take from the Jets' performance yesterday. Their defense was tough all game; Sanchez played his best game since Week One; they had the Patriots on the ropes, on the road. But they couldn't pull it off. A win would have put them alone in first place in the AFC East. Instead, they're under .500 and stunned from an extremely difficult loss. The Jets proved they aren't a disaster yesterday. But they're not a winning team right now either.