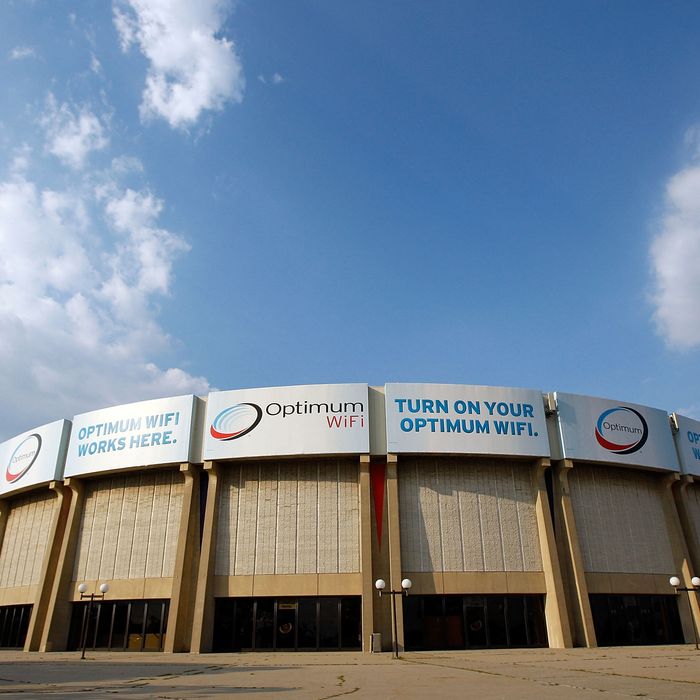 At last, Brooklyn plays the Knicks … here.
Next Thursday's Knicks-Nets game at Barclays Center is one of the most anticipated games of the NBA season; the place is going to be rocking, and everyone's going to be watching. But remember: Context is everything. After all, the Knicks and Nets, those same two teams, play tonight, and no one seems to mind.
Tonight, the Knicks and the Nets play their final exhibition game of the season, against each other, at Nassau Coliseum in Uniondale. The soon-to-be-former home of the Islanders, apparently, has a few open dates coming up, thanks to that lockout business, so if, you know, you happen to live just down the highway from the Coliseum, we hope this sates you for a while.
(Side note: You know all that talk about there being enough events to keep both MSG and Barclays open and busy all year? Check out Nassau Coliseum's shows of late/upcoming:
Long Island Fall Home Show
Carrie Underwood
Trans-Siberian Orchestra
WWE Raw
New Edition
Yeah, that place is gonna be hoppin' when the Islanders leave.)
Anyway, the Knicks will be without J.R. Smith and Rasheed Wallace tonight, but they both practiced yesterday and should, theoretically, be ready for the opener. (Assuming 'Sheed makes the team, anyway.) If you want to watch these two teams play each other, just with lower stakes and lower intensity, and you want to drive a long way to do it, this is your chance, because it's, uh, a little cheaper than going to the November 1 opener. That game has an average ticket price of more then $800 (!!!). They're costing about $60 on StubHub for tonight.
But yes. This is the last preseason game. It's all about to start.