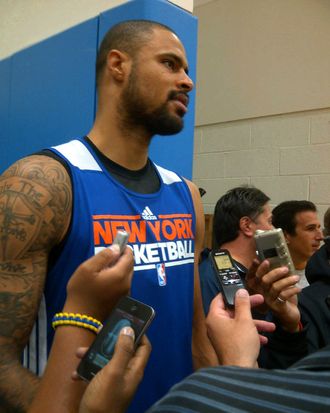 Tyson Chandler speaks to media after practice.
The deals are done (mostly), the preseason pageantry is complete, and the actual basketball has begun. The Knicks congregated at their training center in Greenburgh this morning for their very first day of training camp under Mike Woodson. Woodson, as the attending media soon realized, does things a bit differently than Mike D'Antoni did. D'Antoni held two-a-days throughout his Knicks camps, allowing media in for a significant chunk of each practice. Woodson, at least on this first day, opted for one three-hour-long midday practice, with media only catching the last few minutes of drills, stretches, and a rookie-led rendition of "Happy Birthday" for Tyson Chandler.
From the sound of things, though, Woodson packed a lot into those three hours. The players spoke of a tough, conditioning-heavy first practice, though I can confirm that all of New York's 35-and-older set was alive and upright afterward. On that note, a few post-practice items:
The Knicks are still waiting on Rasheed Wallace, but it's not clear why. He's in New York but didn't practice or show his face to media today. Everyone says he's still sorting out contract stuff. Since the Knicks only have a veteran's minimum contract left to offer, I'm not sure what needs sorting out. One wonders, then, why Wallace's signing would be delayed …
 
When asked, Mike Woodson pegged Raymond Felton as his starting point guard to open the season. The shooting guard position remains the primary point of uncertainty with Iman Shumpert hurt and Ronnie Brewer out a few more weeks. While the starting spot is probably a toss-up between Brewer and J.R. Smith, James White was the one running drills with the first unit today (at least while media were present), and both Felton and Jason Kidd sounded enthusiastic about playing in a backcourt together with Kidd at shooting guard. Kidd noted that he'd done some of that alongside J.J. Barea in Dallas.
 
Tyson Chandler sounds genuinely relieved to have guys like Marcus Camby and Kurt Thomas around for frontcourt defensive support. He sounded pleased to not be the only defensive big on the roster anymore and also suggested that having replaced younger players with veterans will help the team with stability.
 
LaSalle Thompson (who was very involved, very loud, and very sweaty in the parts of practice we saw today) has officially been hired as an assistant coach, as has former Penn State head coach Jerry Dunn (though it's not clear if Dunn will be on the bench or if he's more of a consultant).
 
After practicing for three straight hours each day, the team will congregate in the evenings to eat dinner and watch film together, but the basketball stuff is confined to the morning and early afternoon.
With luck, we'll get to see a bit more of practice in the coming days. For now, though, everything's calm: no new injuries, no new drama, and no Rasheed Wallace (for now).