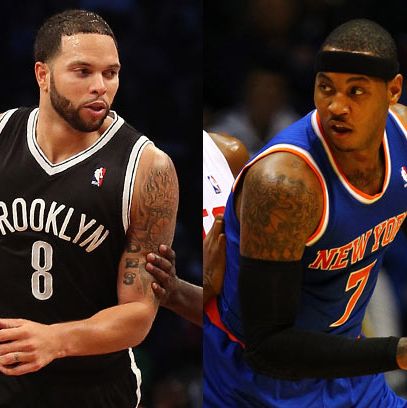 Deron Williams and Carmelo Anthony.
The local NBA season starts this weekend: The Knicks are scheduled to open up on Friday night, and the Nets are set to kick off their season on Saturday. (Tomorrow night's game between the two teams has been postponed.) We've be counting down the most important players on both the New York Knicks and Brooklyn Nets. Today, No. 1!
Knicks No. 1: Carmelo Anthony. Everyone on earth treats Carmelo Anthony like a superstar — like an upper-echelon, top-tier superstar — and has done so for his entire adult life. It is probably time for him to become one. Certainly, Anthony is a superstar scorer — and this Knicks team will certainly need him to do that — but if he is going to be the player he has always claimed to have been, he's going to need to shift into LeBron mode. Well, that's not fair: There's only one LeBron. He needs, at the very least, to shift into Paul Pierce mode, a lone wolf scorer who rounds his game into something resembling Leader of a Championship Team level. The Knicks are a team that is mostly who it is: There's a bunch of old guys who will play the way old guys play. The upside, the potential, the breakthrough: That's all Carmelo. For the Knicks to get to the next level, Carmelo has to take his game there … and maybe beyond. Can he do that? Will he want to? This is the year all the questions about Carmelo will be answered … one way or another.
Nets No. 1: Deron Williams. We love Deron Williams as much as anyone does — we've been watching him since he was a sorta tubby high school senior — but it's probably not fair that he never receives close to the "is he playing hard enough?" criticism that Carmelo does. (Maybe now that he plays in New York, he will.) The way he left Utah was unpleasant for everyone involved, and last year, in an empty building with a decimated team around him, he clearly mailed much of the season in. A superstar of Williams' quality should never lead a team to that poor of a record, no matter the circumstances, and the times he turned it on (that 50-plus point game, the destruction of Jeremy Lin in the Garden) only showed how little he pushed himself the rest of the year. It's time to turn it on all season: Williams wanted to be the centerpiece of a franchise devoted to winning, and now he is. This team will go as far as Williams takes it. Can he bring back those Chris Paul comparisons? Or will he get complacent with the new contract? For the first time in Williams' career, everyone's watching. Let's see how he handles it.

Previously:
No. 2: Tyson Chandler and Brook Lopez
No. 3: Amar'e Stoudemire and Gerald Wallace
No. 4: Raymond Felton and Joe Johnson
No. 5: Iman Shumpert and Kris Humphries
No. 6: J.R. Smith and MarShon Brooks
No. 7: Jason Kidd and Andray Blatche
No. 8: Marcus Camby and Mirza Teletovic
No. 9: Steve Novak and Josh Childress
No. 10: Ronnie Brewer and Tyshawn Taylor