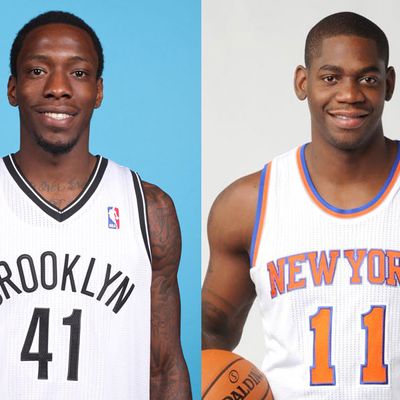 The NBA season starts two weeks from today, with that much-anticipated Knicks-Nets game at Barclays Center. Until then, we'll be counting down the most important players on both the New York Knicks and Brooklyn Nets. Today, No. 10!
Knicks No. 10: Ronnie Brewer. He's healthy and might even be ready for the first game. He was mostly a defensive specialist and high-energy feller for the Bulls the last two years, and is probably worth a lot more than the minimum salary the Knicks are paying him. Having him around allows Mike Woodson to keep J.R. Smith on the bench, much to Smith's chagrin, and also could give Iman Shumpert as much time as he needs to heal. Brewer is a likable guy and an explosive dunker, but it's important to know his limitations. Mostly: He's a pretty lousy shooter. He also works better in a high-speed, high-energy offense, which is pretty much the exact opposite of how Woodson's offense will run.
Nets No. 10: Tyshawn Taylor. If the second-round pick is playing at the end of the year, it's been a great year. Right now he's probably the third point guard behind Deron Williams and C.J. Watson, but the Nets would love it if Taylor makes the backup job his. He has always had tons of talent but didn't quite put it together at Kansas until the NCAA Tournament, when he helped lead the Jayhawks to the national title game. Watson allows the Nets to give Taylor time, but he has the skills to contribute long term. He's the only real rookie on the team, so it'd be nice to see him improve as the season goes along.