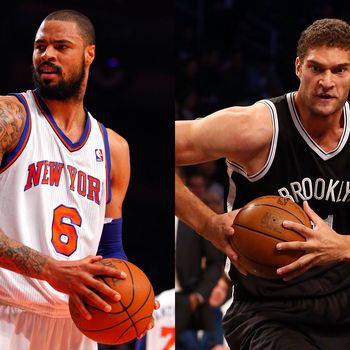 The local NBA season starts in TWO DAYS with that much-anticipated Knicks-Nets game at Barclays Center. Until then, we'll be counting down the most important players on both the New York Knicks and Brooklyn Nets. Today, No. 2!
Knicks No. 2: Tyson Chandler. Frankly, it's tough to keep Chandler only at No. 2 on this list of important Knicks, because we saw what happened those rare times he was out of the lineup last season; the Knicks looked a lot worse than they did when Carmelo Anthony was out, that's for sure. Tyson comes in at No. 2 if just because of the Knicks' depth at center — if by "depth" you mean "frighteningly advanced age." It should be clear, though: If Tyson Chandler is hurt for an extended period of time, the Knicks are doomed. Advanced metrics pegged Chandler as the best Knick last season by a rather large margin; he was actually fifth in the NBA in Win Shares. The Knicks are a team that always has some sort of drama, but Chandler is never a part of it. He is what this team needs more than anything else: He's steady, consistent, and dominant. If the Knicks lost him, the whole thing would probably fall apart.
Nets No. 2: Brook Lopez. Lopez played so few games last year — five — that it's easy to forget what a devastating scorer he can be. He averaged 20.2 points per game in 2010-11, after 18.8 the year before; the dude can put it in under the basket. Now, he can't rebound — he's weirdly terrible at it, actually — and his defense is lousy across the board. But let there be no question that having Lopez on the team makes the Nets better than they would be without him, unless someone just handed them Dwight Howard or Andrew Bynum or something. His offensive threat down low should open up plenty of room for Deron Williams and Joe Johnson to do their business, and when everything's rolling, it's going to be tough to figure out which Net to stop. If Lopez can even play only slightly below-average defense — which would be a definite improvement — the ceiling for this Nets team rises. You pretty much know what you're going to get from Johnson and Gerald Wallace and Kris Humphries. With Lopez, there's at least the possibility for more.

Previously:
No. 3: Amar'e Stoudemire and Gerald Wallace
No. 4: Raymond Felton and Joe Johnson
No. 5: Iman Shumpert and Kris Humphries
No. 6: J.R. Smith and MarShon Brooks
No. 7: Jason Kidd and Andray Blatche
No. 8: Marcus Camby and Mirza Teletovic
No. 9: Steve Novak and Josh Childress
No. 10: Ronnie Brewer and Tyshawn Taylor