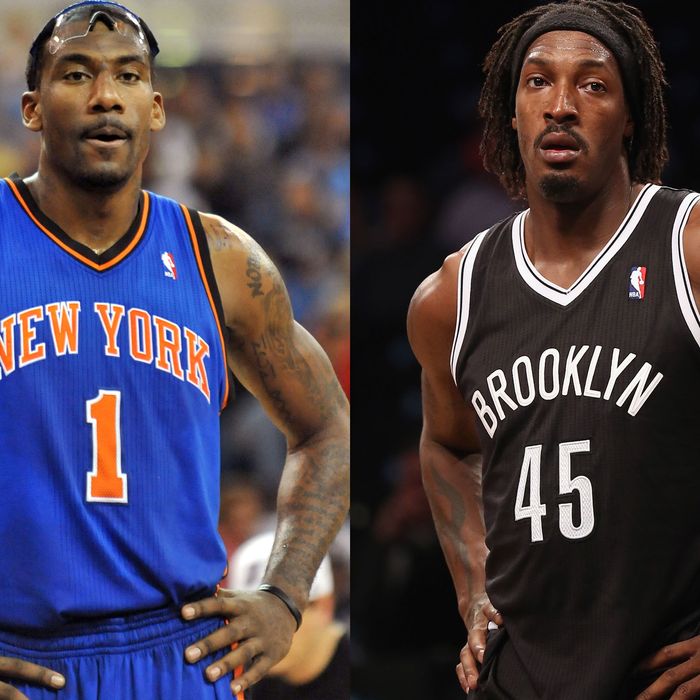 The local NBA season starts in less than a week with that much-anticipated Knicks-Nets game at Barclays Center. Until then, we'll be counting down the most important players on both the New York Knicks and Brooklyn Nets. Today, No. 3!
Knicks No. 3: Amar'e Stoudemire. Of all the questions about Amar'e Stoudemire heading into the season — Is he ever gonna be able to play alongside Carmelo Anthony? How many steps has he lost? He's not gonna punch anything again, is he? — we can now add, Whoa, is his knee really okay? (To be fair, we probably should have been asking this even before that whole cyst-popping business.) Amar'e's second opinion on his knee turned out to confirm the Knicks' diagnosis: He should only be out for all of November. There are arguments to be made that the Knicks are in fact better without Stoudemire on the court — advanced metrics back this up, particularly when Carmelo is playing the four, which he hates to do — and that Carmelo and Amar'e will end up not having any time to practice together before the season starts is an ominous sign. That said, he worked with Hakeem in the offseason! The Knicks need Amar'e to come back as some semblance of himself, if just so the offense isn't just Carmelo and J.R. Smith tossing up fadeaways again.
Nets No. 3: Gerald Wallace. Wallace is such an incredible physical presence — he looks like the platonic ideal of a basketball player — that you almost forget how long he's been playing. His first game was October 30, 2001, when Carmelo Anthony was still in high school. Wallace has been through a ton since then — a few trades, a few minor injuries, lots of wear and tear — and now he's in Brooklyn and expected to be a superstar again. That might be asking a lot, but he's a terrific wild card, particularly with players like Deron Williams and Joe Johnson taking scoring pressure off of him. He shouldn't be taking very many three-pointers anymore, and you can argue that his primary jobs will be make up for the defensive deficiencies of the Nets' big men and to catch Williams's lobs. If Wallace can stay healthy all year, that makes the Nets that much more dangerous of a team. He's signed for the next four years, so the Nets need to get everything out of him they can.

Previously:
No. 4: Raymond Felton and Joe Johnson
No. 5: Iman Shumpert and Kris Humphries
No. 6: J.R. Smith and MarShon Brooks
No. 7: Jason Kidd and Andray Blatche
No. 8: Marcus Camby and Mirza Teletovic
No. 9: Steve Novak and Josh Childress
No. 10: Ronnie Brewer and Tyshawn Taylor