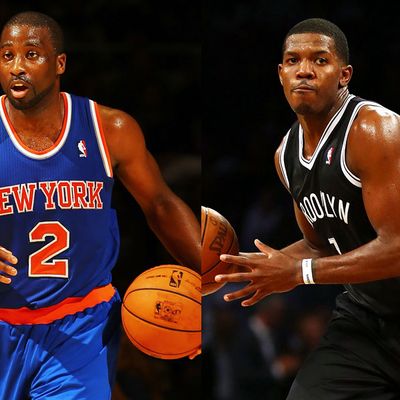 The local NBA season starts in less than a week with that much-anticipated Knicks-Nets game at Barclays Center. Until then, we'll be counting down the most important players on both the New York Knicks and Brooklyn Nets. Today, No. 4!
Knicks No. 4: Raymond Felton. We can confirm that he is no longer the tubby Felton who will be booed like crazy when the Knicks play in Portland this season. (March 14, if you're into following grudges months ahead of time.) He looks mostly fit and definitely motivated, eager to return to the team he never wanted to leave in the first place. It's going to be tougher for Felton this time, though, because: (a) He's not in Mike D'Antoni's point-guard-friendly system anymore, and (b) there's still a segment of fans who are mad he's not two inches taller and Asian. Still, he has Jason Kidd to back him up, and Felton's going to get the majority of minutes. (Though Pablo Prigioni lurks.) The Knicks have talked all camp about having a "steadying influence" at point guard, settling down the (often exhilarating) unpredictability of Linsanity. This is why Felton is here. This year's team is all about being steady and being consistent. So Felton better be those things.
Nets No. 4: Joe Johnson. The highest-paid Net for the next four seasons has what ESPN says is the third worst contract in the NBA. That doesn't mean he's not an excellent player, and he'll be playing alongside a top-shelf point guard for the first time in his career. (Ed. Note: Uh, other than Steve Nash, anyway. Sorry. You get it.) Johnson, also for the first time in his career, is not the centerpiece of his team, which can only benefit him; he was always an ill fit as a franchise player anyway. He's also a better defender than he's given credit for. But in a lot of ways, Johnson is less critical for the Nets than some other stars — Nos. 1, 2, and 3 on this list — if just because, in a pinch, MarShon Brooks could play his spot and also because Johnson no longer will be asked to create, at least not exclusively. In many ways, he's a luxury item, a very expensive, very handy one. But he doesn't feel like the center of the Nets; he's just another weapon. This is nothing but good for the Nets and, assuredly, a huge relief for Johnson himself.

Previously:
No. 5: Iman Shumpert and Kris Humphries
No. 6: J.R. Smith and MarShon Brooks
No. 7: Jason Kidd and Andray Blatche
No. 8: Marcus Camby and Mirza Teletovic
No. 9: Steve Novak and Josh Childress
No. 10: Ronnie Brewer and Tyshawn Taylor