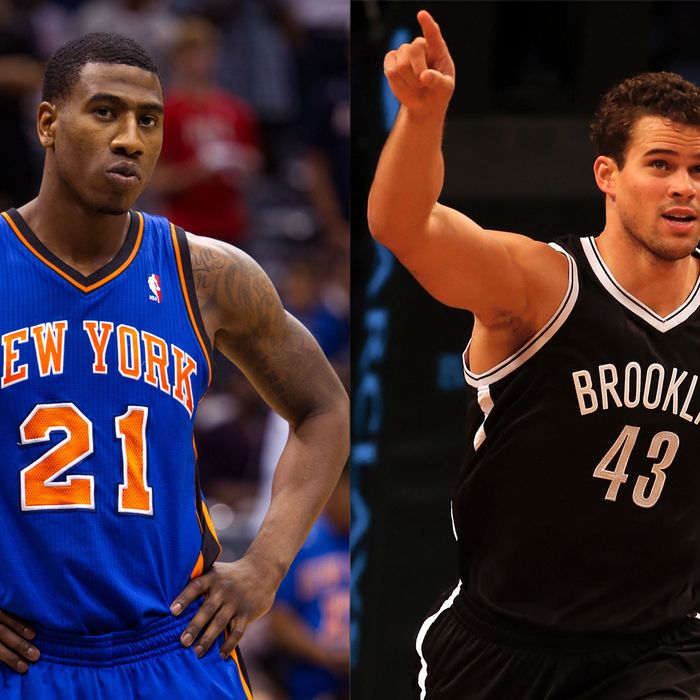 The local NBA season starts in exactly one week with that much-anticipated Knicks-Nets game at Barclays Center. Until then, we'll be counting down the most important players on both the New York Knicks and Brooklyn Nets. Today, No. 5!
Knicks No. 5: Iman Shumpert. We've spent a couple of days over the last week at Knicks practice, and you should know: Shumpert looks fantastic. (And we don't mean the hair, though we mean that as well.) He's not cutting and turning that much yet, but he's moving quickly and working out like crazy and is even more sculpted than he was last year. He's clearly worked on his jumper, too, which was a definite hole in his game: It's smoother and crisper than last year. He's also the one young guy left on this team, to the point that Coach Woodson still calls him "Rook." So the main question: When's he coming back? The Knicks say they won't rush him but, then again, it's possible they'll be starting James White in the opener, so it'd be nice if it didn't take that long. January is probably optimistic; beginning of February is more realistic. If the Knicks can hold on until then, he'll make an immediate difference: In a year or two, he might just be the best perimeter defender in the league.
Nets No. 5: Kris Humphries. Ah, Kris Humphries, he of the "boooo!!!!!!!!!" in every opposing gym, for reasons having nothing to do with his basketball. We wonder if that will dissipate at all this season. You'd have to think so, right? Who remembers reality shows past one season? Anyway, Humphries was punished by the television gods so thoroughly last year that the Nets signed him to a massive two-year, $24 million contract. That's way too much, but that deal was put together in part to make it tradeable (for Dwight Howard initially but now for anybody) and besides, he's not a terrible player. He's not a great defender but he's an outstanding rebounder and can score consistently if you put him in the right spot. He'll probably still get booed everywhere he goes, but not at Barclays Center.

Previously:
No. 6: J.R. Smith and MarShon Brooks
No. 7: Jason Kidd and Andray Blatche
No. 8: Marcus Camby and Mirza Teletovic
No. 9: Steve Novak and Josh Childress
No. 10: Ronnie Brewer and Tyshawn Taylor