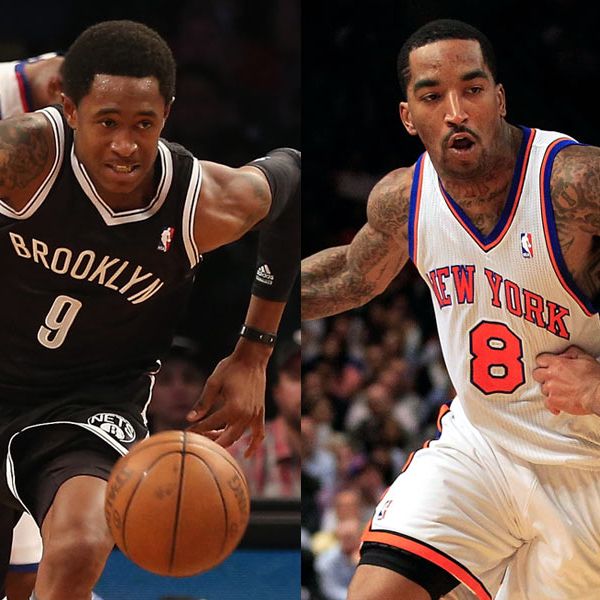 The local NBA season starts in just more than a week with that much-anticipated Knicks-Nets game at Barclays Center. Until then, we'll be counting down the most important players on both the New York Knicks and Brooklyn Nets. Today, No. 6!
Knicks No. 6: J.R. Smith. Without question, there won't be a player on the Knicks who will drive you more crazy this year. Those early-in-the-shot-clock tossups and those late-in-the-shot-clock fadeaways are a bit much to handle sometimes. But there are essentially only two Knicks who can create their own shot anymore; one is Carmelo, and one is Smith. His defense is fine enough, one supposes, and a lot of his value comes from transition. He's not in the starting lineup because Coach Woodson wants him to feast on opposing teams' reserves, but you can count on seeing him at the end of games. If the Knicks have a terrific season, Smith is one of those guys who will go from frustrating to Local Hero: He's crazy, but in an extremely likable way. But if things go sideways on the Knicks, Smith will probably be right there in the middle of it.
Nets No. 6: MarShon Brooks. Brooks started 47 of the 56 games he played last year, which says more about the 2011–12 New Jersey Nets than it does Brooks himself. He had a much better first half than a second half, but still had enough of a reputation — particularly at the No. 25 pick in the draft — that he was legitimate trade bait in the offseason. (Were Dwight Howard a Net, Brooks wouldn't be.) He needs to improve his shooting, but the guy can definitely score, and in a lot of ways, you can see him playing a somewhat similar role for the Nets that Smith does for the Knicks. The difference is that Brooks is five years younger and has tons of time to improve. This could be a breakthrough year for him.

Previously:
No. 7: Jason Kidd and Andray Blatche
No. 8: Marcus Camby and Mirza Teletovic
No. 9: Steve Novak and Josh Childress
No. 10: Ronnie Brewer and Tyshawn Taylor