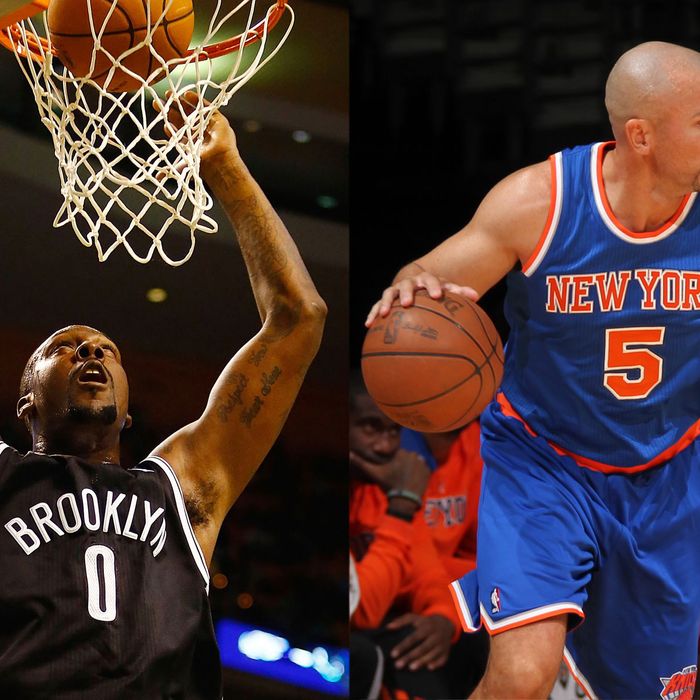 Only one of these guys can dunk.
The local NBA season starts in just more than a week with that much-anticipated Knicks-Nets game at Barclays Center. Until then, we'll be counting down the most important players on both the New York Knicks and Brooklyn Nets. Today, No. 7!
Knicks No. 7: Jason Kidd. We love what Basketball Prospectus — which you should buy — says about Kidd this year: "Eventually, you get the feeling he's going to turn into an NBA Yoda, where he won't move at all but will still orchestrate everything that happens around him." Kidd is getting old fast — he is slow slow slow for a guard anymore, and he is here for three years — but he's still a terrific player because he's Jason Kidd and he understands what's going on on a basketball court at an almost cosmic level. The Knicks will need to limit his minutes, obviously, though the temptation to use him at the 2 (and therefore potentially overextend him) is going to be awfully tempting until Iman Shumpert comes back. It's funny to think Kidd used to not be able to shoot; he's one of the most accomplished three-point shooters in the league now. It's a bit of a joke that the Knicks are this old, sure, but that doesn't mean you're not going to completely love having Kidd around.
Nets No. 7: Andray Blatche. Washington Wizards fans will find it absolutely hilarious to see Blatche here, at No. 7. He was a disaster for the Wizards — fat, disgruntled, lazy and oh, also fat. It was so bad that the Wizards gleefully amnestied Blatche's $23 million contract. He'll still get paid that much, no matter what, so he's in Brooklyn on a non-guaranteed contract and, most crucially, carrying twenty fewer pounds. He's looking quite nice, actually, scoring 23 points in an exhibition game last week and feeling rejuvenated across the board. He's also attacking the rim rather than settling for jumpers; he's a new man, really. It's very possible, even likely, that the waistband will start expanding around January, but for now, the Nets have an awfully cheap, awfully handy backup center.

Previously:
No. 8: Marcus Camby and Mirza Teletovic
No. 9: Steve Novak and Josh Childress
No. 10: Ronnie Brewer and Tyshawn Taylor