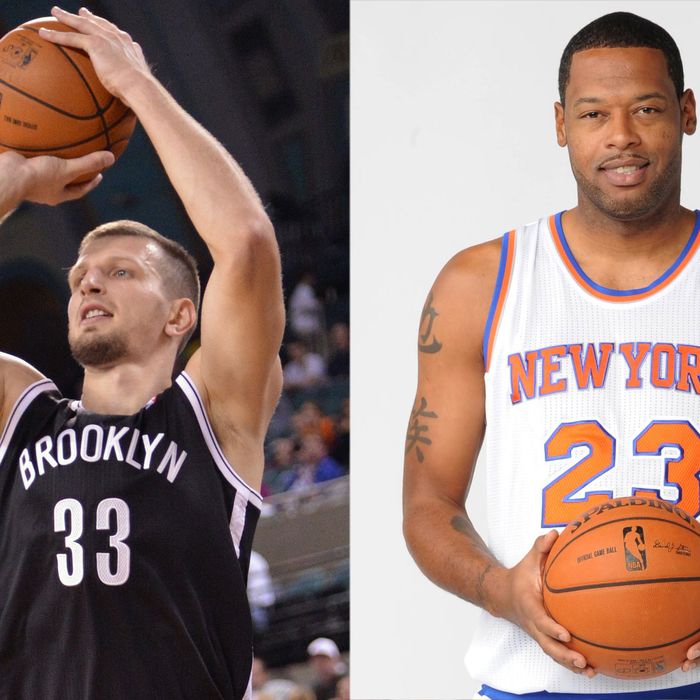 Two very different big men.
The NBA season starts in less than two weeks with that much-anticipated Knicks-Nets game at Barclays Center. Until then, we'll be counting down the most important players on both the New York Knicks and Brooklyn Nets. Today, No. 8!
Knicks No. 8: Marcus Camby. When Marcus Camby played his first game as a Knick, his teammates included Patrick Ewing, Dennis Scott, Chris Dudley, and current Knicks assistant coach Herb Williams. So he's old, is what we're saying. He's still a terrific rebounder and a solid defender, though his shot has only gotten worse since he was a Knick the last time. (And even layups are an adventure at this point: We might have Jared Jeffries back again.) Camby is here because he's old, he's tough, and Tyson Chandler can't play 48 minutes a game. The question, though, is whether or not Camby can even play ten. If he can stay healthy, he'll be incredibly handy. But why in the world would anyone think he'll be healthy?
Nets No. 8: Mirza Teletovic. Teletovic is what scouts like to call a Stretch Four, meaning he's tall (6-foot-9) and beefy, but can shoot three-pointers. This isn't necessarily what the Nets will need — they have plenty of people who can hit three-pointers, and more than anything they need someone who can bang around underneath — but Teletovic will have a role on this team regardless. In the preseason he's struggled on defense and, frankly, with understanding how quickly things are moving around him. (He's not hitting shots either.) But he's a generally terrific scorer and could be a serious offensive threat off the bench. But if the Nets try to guard, say, Kurt Thomas with him, he's going to end up in the third row.

Previously:
No. 9: Steve Novak and Josh Childress
No. 10: Ronnie Brewer and Tyshawn Taylor