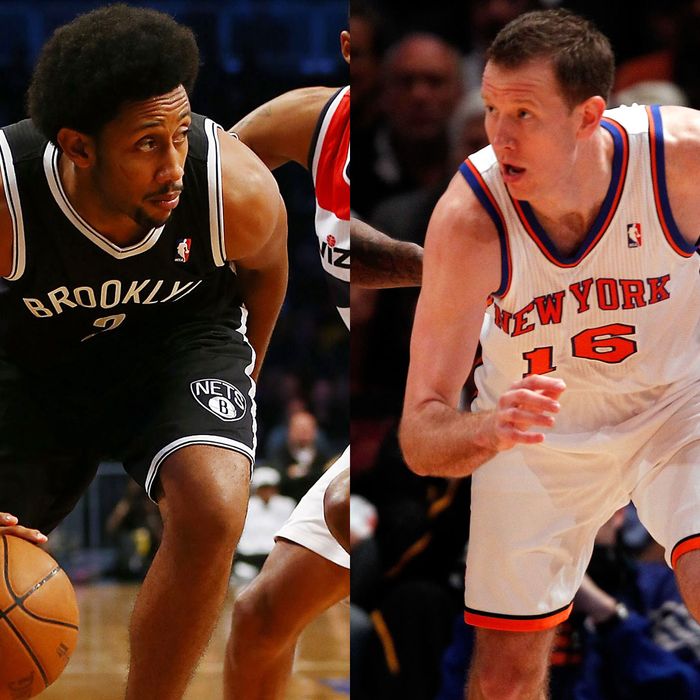 Not similar players, these two.
The NBA season starts in less than two weeks with that much-anticipated Knicks-Nets game at Barclays Center. Until then, we'll be counting down the most important players on both the New York Knicks and Brooklyn Nets. Today, No. 9!
Knicks No. 9: Steve Novak. Novak has always been able to shoot — he actually had a higher three-point percentage three other seasons than his league-leading 47.2 percent last year — but a main reason he was able to stay on the floor last year was that he wasn't actually horrible defensively. He's not going to be banging around much underneath, and he's not fast, but he can hang with guys enough not to embarrass himself, and the way that he shoots, that's enough. As long as he keeps draining threes, he's going to be fine, and the Garden is going to continue to go crazy every time the ball leaves his hands. We're just curious to see if he actually tries a layup this season.
Nets No. 9: Josh Childress. Childress still sort of looks like the guy he was in Atlanta back in the day, but he is absolutely not that guy. He went from a three-year, $27 million contract player to a guy that no one wanted to even give a minimum contract to. Still, he has some potential utility for the Nets, if just because of his size and experience. He's one of those guys who can hang on a second unit for a team that doesn't have much depth. If he can overcome a minor knee injury, he could be one of their first "big" guys off the bench, and he's one of the few Nets at all that can play defense, at least a little.